ZENTNER
Posted: November 25th, 2013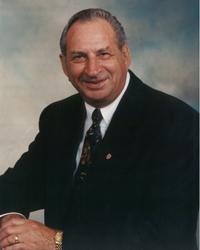 MR. EDWARD "ED" L. ZENTNER, beloved husband of 63 years to Mrs. Emilie Zentner of Calgary, AB., passed away surrounded by his loving family at the Calgary Foothills Hospital ICU on Wednesday, November 20, 2013 as a result of a tragic fall. He was 84 years of age.
Besides his loving wife Emilie, he is survived by his six children; Mary Lea (Ken) Basset of Bruno, SK, Elaine (John) Gill of Edmonton, AB, Estelle (Garry) Lux of Medicine Hat, AB, Gerard (Maureen) Zentner of Edmonton, AB, Peggy (Brad) Zeran of Victoria, BC and Ralph (Faith) Zentner of Lethbridge, AB, 12 grandchildren; Alain (Amanda) Basset, Andrea (Neil) Dielschneider, Ryan (Amanda Berg) Lux, Andrew (Jennifer) Lux, Kathryn (Derek) Robertson, Laura (Mike) Melenius, Peter (Jayme) Gill, Matthew (Braden O'Neill) Zentner, Emilie (Patrick Boutet) Zentner, Thomas Zeran, Chad (Sarah) Zentner and Travis (Kinga) Zentner, 9 great grandchildren; Taylor and Tristan Basset, Trace and Davin Dielschneider, McKenna and Benjamin Lux, Emma Brown-Santa and Jaxon Zentner and Rowynn Zentner.
He is also survived by his brother Ron (Joyce) Zentner, sister Audrey Swires and sister-in- law Pat Zentner, all of Calgary, as well as numerous nieces and nephews.
Ed was predeceased by his parents Ralph and Clara Zentner, and two brothers Dennis and Laurie.
He was born December 21, 1928 in Romance, Saskatchewan. Ed was raised and educated in the Watson area and became involved in the agricultural business at a young age. He worked with John Deere and Massey Ferguson eventually buying into a dealership in Humboldt in 1969.
Ed was very community minded, serving as President for the North Sask. Central Hockey League, North Central Baseball League, and on numerous recreation boards in Watson and Humboldt. He was instrumental in setting up the Quill Plains Recreation Association and served as Chairman for many years. He was a member of the Watson Fire Brigade and Watson Ambulance, coached minor hockey and was Chair for the Voyageur Program with Borgeo, Newfoundland. He served on the Humboldt and District Housing Authority Cooperation (St. Mary's Villa) and later became Chair. He also served on the Sask. Special Care Homes Assoc., Humboldt Housing Authority, and St. Augustine Parish Council. He led congregational singing in Humboldt and Watson for over two decades.
In 1955, Ed joined the Knights of Columbus Council #1886 in Humboldt in the Jubilee class. In 1957 he assisted in the formation of the Watson Council #5850 and became a charter member. Following a move to Humboldt in 1968, he became actively involved there. He was Grand Knight, District Warden, Public Relations Director for State Board, District Deputy, and later joined Supreme Council. In 1976 he became a Field Agent for the K of C Insurance Program and in 1980 was selected to be a Field Training Instructor for Canada. Ed travelled from Peggy's Cove, NS to Vancouver Island, BC and as far north as Inuvik, NWT. He then became the General Agent for Alberta and the NWT, one of the largest jurisdictions in the order. He was totally committed to the Knights of Columbus and conducted regional and state seminars in the training of financial secretaries and council officers. Ed later became Faithful Navigator of Fr. Doucet Assembly and was a Commander for a number of years. He was a long time member of St Cecilia's Parish, where he served as the Finance Committee Chair, as well as other ministries.
Ed was happily married for over 63 years to Emilie Irene Zimbrod, whom he met and married in Watson, Saskatchewan.
Ed was a man of great spirit, integrity, and was devoted to his family and his faith. His passing will leave a tremendous void in the hearts of many. Ed lived with dignity and died with dignity.
Prayers and tributes will be said at ST. CECELIA'S CATHOLIC CHURCH, 321-90 Avenue S.E., Calgary, AB on Thursday, November 28, 2013 at 7:00 P.M.
A Funeral Mass will be Celebrated at ST. CECELIA'S CATHOLIC CHURCH, 321-90 Avenue S.E. Calgary on Friday, November 29, 2013 at 11:00 A.M. with Rev. Henry Rosenbaum, Celebrant.
Interment will follow in the St. Mary's Cemetery.
In memory of Ed, memorial donations may be made to The Multiple Sclerosis Society of Canada, #150, 9405-50th Street, Edmonton, AB T6B 2T4 and the Heart and Stroke Foundation of Alberta NWT & NU, #100, 119 – 14th Street N.W. Calgary, AB. T2N 1Z6.