JOSEPHINE SUZANNE POLLOCK
Posted: February 18th, 2014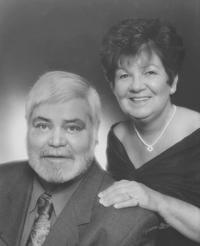 June 20, 1940 – February 13, 2014
It is with great sadness and heavy hearts that we announce the passing of Jo Pollock at the age of 73 years. She was born on June 20, 1940 in Nacmine, AB., the daughter of Zuzana and Klement Pavcik.  Jo spent her teenage years in Calgary attending St. Mary's High and afterwards working at CIBC.  She met her future husband Donald at a football game at Mewata Armoury and they married in the spring of 1961.  They moved to Medicine Hat in 1968 where they raised their four daughters. When her kids started school, Jo returned to work at Canada Trust where she was employed for several years. In 1983, Jo moved to Slave Lake with her husband who was transferred while working for NOWSCO.  They returned to their original house and home in Medicine Hat in 1988.  Jo worked part time as a Treasury Clerk at The Bay and enjoyed her time as a new Grandma. "Gamma Jo" was close with her Grandchildren and played a big role in their upbringing. She spent much of her later years watching and cheering on the kids at various sporting events. Jo was delighted to watch her Grandchildren grow, become parents themselves, and she would affectionately become "Grandma Great".  Jo enjoyed family gatherings and beating her Grandsons in poker with her surprisingly good bluffing skills.  Jo's quick wit and big smile will be sadly missed.  She will be forever remembered by her four daughters, Dawn (Wilfred) Scherger, Kathy Pollock, Keli (Paul Malone) Pollock and Melanie Pollock;  grandchildren, Christopher Pollock (Miranda), Taylor Pollock (Jo-el), Cathy Towers (Mark), Ryan Scherger, Stephanie Scherger (Cole), and Janelle Pollock;  great-grandchildren, Diego, Havana, Kobe, Vincent, Bentley and her dog, Kato.  She also leaves to cherish her memory one brother, Cyprin (Eva) Pavcik;  one sister, Jocelan Alden as well as many nieces, nephews, cousins and friends at Valleyview.  Jo was predeceased by her beloved husband, Don;  parents, Zuzana and Klement and one brother, Ervin Pavcik.  Those wishing to pay their respects may do so starting one hour prior to Vigil Prayers which will be recited at Cook Southland Funeral Chapel, 901 – 13 Street S.W., Medicine Hat on Tuesday, February 18, 2014, at 7:00 p.m.  Visitation will also be offered at the church starting one hour prior to the Funeral Mass which will be celebrated at St. Patrick's Roman Catholic Church, 238 – 2 Avenue N.E., Medicine Hat on Wednesday, February 19, 2014, at 1:00 p.m. with the very Reverend Father Long Vu celebrant.  Interment will follow at Hillside Cemetery where both Don and Jo will be placed to their final place of rest.  (Condolences may be expressed by visiting www.cooksouthland.com)  Jo suffered from Type 1 diabetes from a young age, in lieu of flowers a donation can be made to the Canadian Diabetes Association, 102, 73 – 7 Street S.E., Medicine Hat, Alberta, T1A 1J2.
In Memory of Donald Pollock
FEBRUARY 17, 2004
So much has changed since you've been gone,
Through ups and downs our lives move on,
But as time rolls by one thing remains true,
We'll always have memories of you.
                                                          …..Love your family.
Honoured to serve the family is COOK SOUTHLAND Funeral Chapel, 901 – 13 Street S.W., Medicine Hat, Alberta, T1A 4V4.  Telephone:  403-527-6455.