RIDDLE
Posted: February 21st, 2014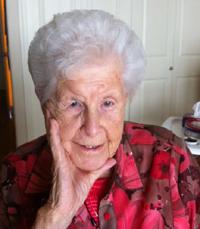 Gladys Annie (Tough) Riddle born July 7, 1912, Victoria, B.C.to James and Isabella Tough and passed away Feb. 15, 2014, Lacombe, AB.
Predeceased by her husband of 50 years, Frank (1995); siblings Sid (Edna) Tough, Jim (Jo) Tough, Isabel (John) Routledge; sisters-in-laws Jackie Tough, Geraldine (Carl) Stull, Helen Riddle; nephew David Clair (Vicki) Stull; most of her friends.
Survived by: Brother George Tough of Vancouver, B.C.; Brother-in-law Wallace Riddle, Carstairs, AB.; Daughters Jacquie (Jim) Siemens, Lacombe, AB., and Janet (Bob) Clare, Calgary, AB.
Grandchildren: Paula(Graham) Barclay, Red Deer, AB.; Shelley (Murray) Meldrum, Clive, AB.; Trevor (Colette) Siemens, Lethbridge, AB.; Dr. Allison Clare (Will Woods), Golden, B.C.; Stuart Clare, Calgary, AB.
Great Grandchildren: Ashleigh, Scott, Amy and Jessica Barclay; Justin, Brett, Kaylee, Tia and Janie Meldrum; Nathan and Hailey Siemens.
Special Friend: Kaja Westgarth (Medicine Hat) and 12 nieces and nephews.
Special Thanks to the wonderful, caring staff at Royal Oak Manor, Lacombe who made her last months pleasant and comfortable.
Gladys grew up in Vancouver, B.C., attended Kitsilano Public School and Fairview High School of Commerce – Commercial. She worked at whatever jobs were available in the '30s including Hotel Chamber Maid and a Cannery worker. 1941-42 she attended Willis Business College. 1942-45 she joined the Royal Canadian Air Force Women's Division as Clerk Stenographer. It was in the RCAF that she met meteorologist Frank Riddle. She made quite an impression on him and they were married June 14, 1945. So the city girl moved to small town Alberta where they lived in Bassano, Brooks, Grande Prairie, Medicine Hat, and then she lived in Calgary and Lacombe closer to her daughters. They raised two daughters Jacquie (1946) and Janet (1950). She was always home for them while her husband was busy with his career and community service. She enjoyed sewing, reading, swimming, bridge, bowling, golfing and especially gardening. She volunteered with swimming with the handicapped, and various church activities. She was friendly to all and so enjoyed her friends and family all through her life. She never met any of her Scottish relatives until in her '60s. Macular Degeneration in later years limited some of her hobbies. In just the last years did her memory began to fail her. Arthritis issues led to the use of a walker but allowed her to keep her mobility until Jan. 22 when a fall broke her pelvis. A resulting infection took her last will to live. At 101 years old, she passed away peacefully entering her heavenly home. We have been so blessed to have had her for so many years as she embraced each new phase in her life. 
Memorial Service in Celebration of Gladys' life will be held Friday, February 28, 2014 at 2:00 p.m. from Wilson's Funeral Chapel and Crematorium, 6120 Highway 2A, Lacombe, AB. In lieu of flowers donations in her memory can be made to the following charities: Canadian National Institute for the Blind,www.cnib.ca or Gift in Memory CHIB, 1929 Bayview Ave. Toronto, ON. M4G 3E8; Mustard Seed Ministries, www.theseed.ca or 102-11 Ave. SE, Calgary, AB.T2G 0X5 or phone 403-269-1319 ; or St. David's United Church,3303 Capitol Hill Cres. NW, Calgary,AB. T2M 2R2. Expressions of sympathy may be made by visiting www.wilsonsfuneralchapel.ca
WILSON'S FUNERAL CHAPEL & CREMATORIUM,
of Lacombe and Rimbey in charge of the arrangements.
403-782-3366 403-843-3388
"A Caring Family, Caring For Families"