WHILES
Posted: March 20th, 2014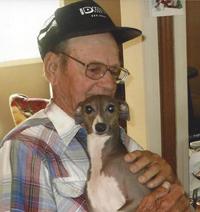 Stan Harold Whiles passed away Sunday, March 2 at 88 years of age, beloved husband of Betty.
He leaves to cherish his memory daughters Deb (Glen) Hauck, Sandy (Rob) Noyes all of Medicine Hat; grandchildren Brad (Maureen) Hauck, Noel Hauck, Brandy (Jeff) Chisholm, Tyler (Jackie) Noyes and great grandchildren Willow, Wyatt and Jessie.
Stan was born June 10, 1925 at Wolseley, Sask. to parents George and Rose (Barton) Whiles. Stan had one sister – Muriel. The family had settled in the area south of Piapot where Stan had ranched and farmed many acres with his John Deere tractors.
When Stan turned six years old, his Dad passed away the day before due to health complications of being in the war and so Stan grew up with his Mom on the farm. He learned early in life how to make do with what was on hand, waste not, somehow make that piece of equipment work again and realize that a hard day of work was good.
Stan was a child in the '30s, there were no toys that you could buy in the store, you made your own. A favorite story that he would talk about was a wooden wheelbarrow, his favorite cat Old Tom and his trusty horse named Trigger.
Stan started at Moorhead School in 1932 and continued till 1940. He thoroughly enjoyed reading books. Books of tractors and more tractors, history, adventure and all the local history books. He always had a subscription to farm and tractor magazines, the Western Producer and both local newspapers. He would read them from front to back and then to front again.
Stan took pride in his penmanship and sent many a pen pal letter, birthday and Christmas cards. He kept daily diaries which dated back to the 1940s. Stan enjoyed crunching financial figures – there was always a paper laying around where Stan had done his figuring upon it. He had a great memory for phone numbers. He was a walking historian and would always have a story to tell.
Stan eventually took over the family farm that he called Valley View. When there was a shortage of fuel he and his Mom would travel by horse and buggy. In time the buggy was left to rest, rotting away in the trees. Around the early '80s it was rediscovered, restored and is presently standing inside the house as a furniture piece.
A story that Stan would tell us was how he would take a team and wagon and travel to the hills to get rails and wood for building fences, corrals and loads of firewood for customers in town. Coming back home was the hardest part of the journey – having a full load and going downhill with the team. In the fall the trip wasn't too bad, but going into the colder weather, the day would start out fair but was tough going at the end.
Stan had a great sense of humour. He would always have a joke or a rhyme or two. The grandchildren learned early that maybe it wasn't always the best idea to repeat what they recited with Grampa.
Another fond memory of Grampa was when they would go for a walk with twine in hand looking for which holes the gophers would run into. He would show them how to set a snare to catch a gopher and sometimes they got one.
Stan and Betty did a lot of trail riding and made many friends along the trail. Together they farmed and ranched and enjoyed their quading.
Stan loved to go to auction sales, cattle sales, coffee row, driving popping Johnny or just go for a drive. All that changed when he had a stroke in July of 2011. After that Betty took care of Stan at home out in the country. There Puppy would sit on Stan's lap along with Tika and Diesel the whippets and Fatcat, Doodle and Tippy the cats.
May the road rise up
to meet you
May the wind be at
your back
May the sun shine warm upon your face
And the rain fall softly
on your fields
And until we meet again.
May God hold you in the hollow of his hand.
The funeral service was held at the Maple Creek Salvation Army in Maple Creek, Sask. on Thurs., March 6, 2014 at 2 p.m. with Capt. Ed Dean officiating. Pallbearers were Brad Hauck, Tyler Noyes, Maureen Hauck, Jeff Chisholm, Jackie Johnston, Brandy Chisholm. Honorary pallbearers were all those who shared in Stan's life.
Memorial gifts in Stan's memory may be made to the Heart & Stroke Foundation or the SPCA.
To email an expression of sympathy, you may visit www.gonebutnotforgotten.ca.
Binkley's Funeral Service, Maple Creek and Leader, in charge of arrangements. 306-662-2292.