ADAM MICHAEL ELLIOTT
Posted: July 24th, 2014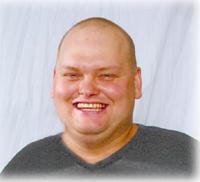 September 30, 1981 ~ July 21, 2014
It is with the deepest of sadness and heartache that Dale and Meryle Elliott of Seven Persons announce the passing of their youngest son, Adam Elliott of Medicine Hat on July 21, 2014, at 32 years of age.  Along with his parents, Adam is survived by his only brother, Rob Elliott of New Zealand; his son, Hunter Elliott-Mingo and his fiancée, Katrina Barron both of Medicine Hat;  grandparents, Lloyd and Bev Elliott of Mitchell, Ontario;  grandmother, Doris Connell of Medicine Hat and many aunts, uncles, cousins and friends that loved him.  He was predeceased by his grandfather, Geo Connell of Medicine Hat and his uncle, Lorne Knutson of Iddesleigh.  Adam was raised and attended school in Seven Persons, later attending Medicine Hat High School.  While there, he excelled in the Mechanics program where he competed in the AMA Car Care Challenge.  He then moved on to the Medicine Hat College where he earned his Journeyman Mechanic Certification.  Adam worked for Rodeo Ford in Medicine Hat for 12 years before taking a position with Weatherford where he was employed at the time of his passing.  Adam was a devoted father, fiancé, an avid hunter and was just beginning to look forward to camping and exploring the outdoors with his family.  Most of all, Adam was a loving son, brother, father, family man and friend that would help anytime he was asked and always offered a helping hand where he could.  His unexpected passing will never be understood, but hopefully in time the pain in our hearts will become bareable.  Adam will be missed by all that knew and loved him, but mostly by his friends and loving family.
"Adam, we love you and promise to help raise Hunter into a man that you would be proud of.  We miss you, and you will be in our hearts forever."
A Celebration honouring Adam's life will be held at Cook Southland Funeral Chapel, 901 – 13 Street S.W., Medicine Hat on Thursday, July 31, 2014, at 1:00 p.m. with Pastor Len Barkman and Pastor Maury McNeil officiating.   Interment will follow at Hillside Cemetery with a luncheon and time of fellowship thereafter in the Cook Southland Reception Center.  (Condolences may be expressed by visiting www.cooksouthland.com)  If friends so desire, donations in memory of Adam may be made to a Trust Fund in Hunter's name at the Bank of Montreal, 606 – 2 Street S.E., Medicine Hat, Alberta, T1A 0C9.  Honoured to serve the family is COOK SOUTHLAND Funeral Chapel, 901 – 13 Street S.W., Medicine Hat, Alberta, T1A 4V4.   Telephone:  403-527-6455.