DOROTHY MAE RUTHERFORD (nee SEPT)
Posted: August 8th, 2014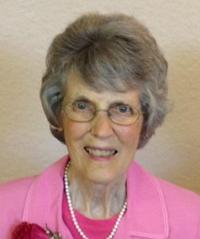 Dorothy Mae Rutherford was born in Medicine Hat on November 10, 1933. She was the youngest of eight children born to Fred and Ernestina Sept. Dorothy grew up on a ranch near Walsh. She loved to pick shooting stars and play with her dog, Buster.
Dorothy fell in love with Don Rutherford while they both attended Alexander High School in Medicine Hat. Don first noticed Dorothy while she was playing short-stop for Elm Street School, and he noted she was the cutest girl on the team.
Don and Dorothy were married on June 4, 1955, and the newlyweds moved to Calgary. Three years later they were blessed with a baby girl, Kathleen Ann. A bouncing baby boy, Kenneth William joined them in 1961. Dorothy relished her time as a full-time mother and she enjoyed serving in the church and the community.
In May of 1972, Dorothy accepted Jesus as her Savior and committed herself to his service. From this day on, Dorothy's life became focused on loving others and serving God. This was the true source of her joy.
With Don, Dorothy was the co- manager of the Shepherd's Inn. This position was never a job, but rather a calling. She loved both the customers and the staff as though they were family. Many a customer has been adopted by Dorothy. They recently retired from their service at the Sherpherd's Inn, but it remained at the centre of her heart.
Dorothy leaves to cherish her memory her husband Don and their two children, Kathleen (Rustin Myers) and Ken (Mary). Grandchildren (Tim (Kim), Melissa Myers; Nicole, Shane and Kathryn Rutherford. As well, two great grandchildren Charlie and Jackson Myers.
Dorothy went home to be with her Savior on Saturday, July 26, 2014 in Fort St. John. She had been diligently preparing her heart for heaven. Today she is rejoicing and praising the Lord. Dorothy will remain in the hearts of her family and friends forever.
Memorial service was held at the Shepherd's Christian Centre July 31, 2014. If friends so desire, donations in memory of Dorothy may be made to your local SPCA.