JUSTIN HAYTER
Posted: October 15th, 2014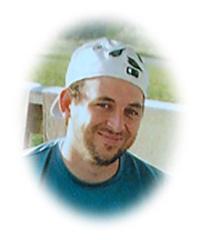 Mar. 22, 1983 ~ Oct. 10, 2014
MISS ME – BUT  LET ME GO
"When I come to the end of the road
And the sun has set for me,
I want no tears or gloom filled room.
Why cry for a soul set free?
Miss me a little – but not too long,
And not with your head bowed low
Remember the love we all shared,
Miss me – but let me go.
For this is a journey we all must take
And each must go alone
It's all part of the Master's plan
A step on the road to home.
When you are lonely and sick of heart
See family and friends we know.
Take time to heal, tho' we must part
Miss me – but let me go."
Mr. Justin Charles Hayter of Medicine Hat, beloved partner of Crystal Stanley, passed away unexpectedly in Medicine Hat on Friday, October 10, 2014, at the age of 31 years.  Justin is survived by his wife, Crystal Stanley;  children, Quinton, Amaya and Liam Hayter;  father, Ian Hayter and mother, Dale Hayter as well as his brother, Colin (Ghirlie) Hayter.  He is also survived by his second family:  parents, William and Shirley;  brothers, Tyrone, Waylon, Joey, Tyllan and Tyrell;  sisters, Tanya and Cindy as well as numerous nieces and nephews.  He was predeceased by his grandparents, Charles and Annabelle Palmer and Roy and Gladys Hayter and Lorraine.   A celebration of Justin's life will be held at Cook Southland Funeral Chapel, 901 – 13 Street S.W., Medicine Hat on Friday, October 17, 2014, at 2:00 p.m.  Interment will follow at Hillside Cemetery.  (Condolences may be expressed by visiting www.cooksouthland.com)  Honoured to serve the family is Cook Southland Funeral Chapel, 901 – 13th Street S.W. Medicine Hat, Alberta T1A 4V4 Phone 403-527-6455