DAHL
Posted: December 18th, 2014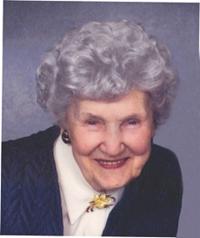 Elizabeth Dahl passed away peacefully on December 2, 2014 with her beloved granddaughters at her side.
Elizabeth was predeceased  by  her husband of sixty-eight years, Ingolf; her grandson Davin and daughter-in-law, Phyllis; her parents, Monica and Sebastian  Zentner; her brothers, Jack and Tony Zentner (Irene); sisters,  Rose Fetter (John) and Kate Campbell. She is survived by her children Diane Zoell and Barry Dahl; grandchildren Corinna Dahl-Ritco (Darren), Nicole Dahl-Carey (Rob), Daisy McNamara (Jason), Lana Backman (Tyler) and Calvin Dahl (Carri); great- grandchildren Ashtyn and Avery Ritco; Lily, Veda, and Lev Carey; Brooklyn McNamara; Lewis and Elliott Backman; and Hadley and Esmae Dahl; many nieces and nephews; and Doreen Mortimer, a member of the family in every important way.
Beth was born February 26, 1921 on the Zentner homestead near Senate, Saskatchewan where she grew up. She had made plans to leave the community, but then one night at a dance, she caught the attention of a blue-eyed accordion player from Robsart.  She and Ingolf were married in 1942.  They took over the Dahl homestead (now Dahl Farms), and, together, they worked to grow the family farm and raise their family. The work was hard, and there were many difficult times. However, her children remember growing up in a home that was filled with love, great food, music, and, frequently, company. Anyone who was ever a guest in Beth's home knows what a gracious and welcoming presence she always was. She had a serenity about her that was rarely disturbed.
When they retired and moved to Maple Creek, Beth thrived in her new environment. She now had the time to develop her artistic gifts—which included cross-stitching and quilting—and she became active in the Seniors' Center and the 21 Club. As well, all those who knew Beth know there were few things she loved more than playing bridge, and she was devoted to her "bridge ladies." Music also played a huge role in Beth's life. She accompanied Ingolf when he toured with the Swift Current Fiddlers, and attended the annual Accordion Festival in Kimberly, B.C.  While Beth did not play an instrument, she loved to dance and was a beautiful dancer—as was her husband; thus, when the two of them took to the dance floor, all eyes were usually on them.
To the end, Beth was in charge of her own life. She absolutely loved her home at Creekside, and the people there meant the world to her. Her family is grateful she was able to live out her life in a place where she felt so safe and cared for.  Though we have been left with a void in our lives that can never be filled, we are thankful our beloved family member is resting peacefully now, reunited with her blue-eyed accordion player.  
On December 6, 2014 a memorial service to celebrate Elizabeth's life was held at the Maple Creek United Church with Eva Stanley officiating. The United Church ladies served a lunch. Interment will be held at a later date.
The family would like to thank Dr. Hawk as well as the nurses and other staff members of the Leader Hospital for the wonderful care given in her last days and for the support given to her family; we wish to commend you not only for your professionalism but also for the kindness and dignity with which you treated our precious family member. Thanks also to the staff at Emergency Services in Maple Creek for their care and kindness.
To email an expression of sympathy you may visit www.gonebutnotforgotten.ca.
Binkley's Funeral Service, Maple Creek and Leader, in charge of arrangements, 306-662-2292.