FOLK
Posted: January 14th, 2015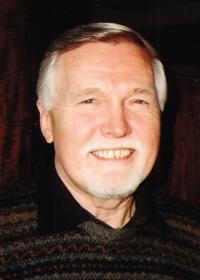 It is with great sadness, we wish to announce the passing of our beloved Brother, Killian (Kelly) Folk, after a courageous battle with cancer, on Sunday, January 11, 2015 in Victoria, BC.
Kelly was born in Leader, Saskatchewan on February 19, 1943 to Balzer (Walter) and Frances Folk.
Raised on the family farm south of Richmound, Saskatchewan, far from any schools, the family decided to move to Medicine Hat where an education would be more attainable. Once in Medicine Hat he was enrolled at St. Mary's and later McCoy Hight where he and his classmates were the first class to graduate after its opening. He later received a degree in Fine Arts from the University of Victoria.
At the age of 19, Kelly joined the R.C.M.P. completing his training at the police academy in Regina, Saskatchewan. During his 4 year career he achieved the rank of Superintendent and was stationed throughout Canada and the Territories until his final posting in Victoria, B.C. While there he was assigned as head of security for the 15th Commonwealth Games in 1994 and later the Aide to the Lt. Governor of BC for 6 years.
Left to cherish his memory is his wife of 51 years, Claudia and their two daughters Marina Rosta and Children and Kellianne (Phil) Stiller and their children. He also leaves behind one sister, Shirley (Dave) Hart and children; Terry (Don) Eftoda; Dixie (Chris); and Cindy Packet and their children. As well one brother, Garry (Marion) Folk and their children, Shaun, Ryan, Kaylnn and Rachel Folk. One Aunt, Julia (Bill) Helman and their children.
For those who knew Kelly, he will always be remembered for his deep faith and knowledge of the Bible and his quiet, gentle demeanor. He will truly be missed.
A private burial will be held in Victoria in the days to come with a celebration of his life in the spring. For those wishing to offer condolences please just say a prayer in your hearts.