SCHLENKER, Beverley Arthur (Art)
Posted: February 4th, 2015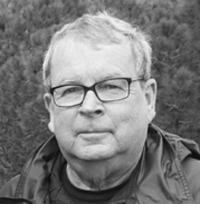 On January 29, 2015, Beverley Arthur Schlenker departed on another journey, no passport required. Lovingly waving him farewell were Eileen, his wife of 51 years; his daughters Linelle Giles (Steve) and Cara Schlenker (Randy); his grandchildren, Carly Giles and Cameron Giles; and friend of the family, Bruce Watson, all of whom Art was very proud.
His original journey began as 'Bev' in Medicine Hat, Alberta where he spent his awesome formative years, continuing on to the University of Calgary where he became 'Art,' received his B.Ed. and met Eileen. In his thirty-five year career at SAIT, Art was a popular teacher who enjoyed mentoring and engaging with colleagues and students – a passion that he continued to exercise long after he retired. He was an early adopter of digital technology and volunteered his time to teach email and internet skills to seniors, the homeless, and even Eileen. Art's working life, as successful as it was, was never his primary concern. Travel lit up his life. No sooner would he land on home soil, back from some adventure, than he would be planning his next. To his last moments, he never stopped imagining his next trip. Art travelled to nearly 50 countries, some of them several times. Always seeking the road less travelled, Art immersed himself in what he called the 'real culture' wherever he went. Travel was important, and so was food, especially when sharing meals with his family. While his palate was certainly adventurous on his travels, at home his tastes were decidedly potato-based, and nothing of broccoli. Above all else, Art loved his family. He was a generous, supportive father to Cara and Linelle; a committed husband to Eileen; and to his grandchildren an entertaining, mischievous maker of 'world-class popcorn.' Art's wit, sly sense of humour and keen eye for a prank made him much loved, and even more missed, by those fortunate enough to call him family or friend.
We honour Art's wishes that there be no services or flowers. Sincere thanks to everyone at Foothills Medical Centre for helping smooth the road for us. If you wish to remember Art with a donation, please support Sait's I.G. Lewis Student Emergency Fund: Sait Polytechnic Alumni and Development (1301 16 Ave N.W. Calgary, Alberta T2M OL4 (403) 284-7010).
To move, to breathe, to fly, to float,
To gain all while you give,
To roam the roads of lands remote,
To travel is to live.
-Hans Christian Andersen
BON VOYAGE, Art!
In living memory of Arthur Schlenker, a tree will be planted at Fish Creek Provincial Park by McINNIS & HOLLOWAY FUNERAL HOMES, Crowfoot, 82 Crowfoot Circle N.W. Telephone: 403-241-0044.