NETTIE SCHROEDER
Posted: March 2nd, 2015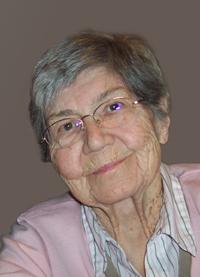 1925 – 2015
 Nettie Schroeder (nee Lepp) of Bow Island, formerly of Saskatoon, was welcomed into the loving arms of Jesus  on Thursday, February 26, 2015, shortly after celebrating her 90th birthday.
 Relatives and friends are invited to meet with the family at the Evangelical Free Church, 214 – 4 Avenue West, Bow Island on Monday, March 2, 2015 between 10:00 A.M. and 10:45 A.M.
 The Burial Service will be held at the Bow Island Cemetery on Monday, March 2, 2015 at 11:00 A.M.
 The Funeral Service will be held at the Evangelical Free Church, 214 – 4 Avenue West, Bow Island on Monday, March 2, 2015 at 1:00 P.M. Condolences may be forwarded by visiting our website at www.southlandfuneral.com. 
 Nettie will be lovingly remembered by her husband Helmut Schroeder; daughter Judith (Douglas) Schroeder-Tabah of Saguenay, Quebec and their children Aaron (Cynthia), Christian, Rachel and Sami; daughter Janet (Gerald) Schellenberg of Bow Island and their children Jessica (Jeremy) Poettcker, Nikki (Randy) Ohlmann and Shawn (Krystal); son Raymond (Angela) Schroeder of Regina and their children Randal (Lauren), Jared, Logan and Thomas as well as ten great grandchildren. She is also survived by her siblings Helen Falk, Henry (Elizabeth) Lepp, Selma (Lawrence) Warkentin and George (Frieda) Lepp; brother-in-law Henry Veer; sister-in-law Margaret Lepp as well as numerous nieces and nephews.
 She was predeceased by her granddaughters Tanya Schellenberg and Lena Schroeder-Tabah; parents Jacob and Helen Lepp; brothers Peter (Luella) Lepp and Jake (Luella) Lepp and sister Margaret Veer.
 Nettie was born the fifth of eight children to Jacob and Helen Lepp on January 30, 1925 in Tiege, Russia. She immigrated to Canada with her family in 1926, settling near Hepburn. Nettie accepted the Lord Jesus as her Saviour at eight years old and was baptized at fifteen. She attended Normal School and after teaching on her own for several years, she met and married Helmut Schroeder, who was her faithful companion for sixty five years. Helmut and Nettie spent nine years teaching in the native schools in northern British Columbia. They loved and were loved by the people there and had their first daughter Judith while there. When Helmut and Nettie felt called to go into ministry, they moved to Winnipeg where Helmut took further training. They would also welcome two more children, daughter Janet and son Raymond. They served as pastoral couple in Alexander, Woodrow, Beechy and then Saskatoon where Helmut was conference minister until they retired.
 Nettie devoted her time to ministry in the church and supporting her family with her prayers and her quiet presence. When Nettie's health began to fail, they moved to Bow Island. Her last years were spent at the Bow Island Health Centre, and even through her difficulties in her last years, she won the race, she fought the good fight and dying truly was gain. Having now crossed the finish line, she rests in the presence of the author of her faith.
 Arrangements in care of Southland Funeral Chapel, Taber. Telephone: 1-888-223-0116.