ART ROBERTSON
Posted: March 4th, 2015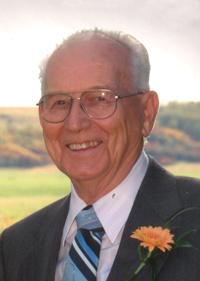 1928 – 2015
 Arthur Baird Robertson, beloved husband of the late Hellen Robertson, passed away at Bow Island Health Centre on Saturday, February 28, 2015 at the age of 86 years.
 Art is survived by two sons Harvey (Marg) Robertson of Lethbridge and their children Brianne (Brian) Dand of Red Deer (their children Riley, Carter and Brodie), Mandy (Patrick) Foster of Squamish, British Columbia and Stacey (Cole) Goodwin of Red Deer; Bruce (Carla) Robertson of Bow Island and their sons Colin (Tara) Robertson (their children Aubrey and Rhett) and Kyle (Karmyn) Robertson (their son Landon) all of Bow Island. He is also survived by his sister Margaret Tyler, brother Andy (Agnes) Robertson; sisters-in-law Anne Robertson, Margaret Ryall, Betty Sjoquist and Cathryn (Pat) Desjarlais; brother-in-law Tom (Amy) Dey and many nieces and nephews.
 He was predeceased by his wife Hellen in 2011; mother Isabella Robertson; father and step-mother Warrender H. and Jean Robertson; brothers John, Warrender, Kenny and Larry (Jennifer) Robertson; Hellen's parents William and Florence Dey and brothers-in-law Max Tyler, George (Shirley) Dey, Charles Ryall and Albin Sjoquist.
 Art was born April 27, 1928 in Calgary, the fourth of seven children. His father's work with Calgary Power took them to Seebe, Alberta.  After his schooling, Art followed his father and brother and began working for Calgary Power as a lineman. He met Hellen in Banff in 1948 and they married November 12, 1951. They settled in Innisfail where their two sons, Harvey and Bruce were born. After sixteen years, a management position brought them to Bow Island in 1967. Art served as manager of the Bow Island and District Office until he retired in 1984. They enjoyed many camping trips with family and friends during the summer months and following retirement, they spent nine winters in Arizona.
 Art was a man of many talents. Many hours were spent rebuilding cars, building houses, gardening and wood working. He was a member of the Bow Island Lion's Club, the Elks and the Golden Age Club. 
 Family was very important to him. He loved spending time with his growing family. Whether watching the grandkids play their sports, camping with them or attending family functions he took great pride in being their grandpa. In recent years, with the arrival of great grandchildren, his soft heart was further exposed. He loved watching and playing with them. Art's love for his family was always abundantly evident in his never ending commitment to us. Despite always being the first to step up to help others, his independent nature made it hard for him to ask for or accept help. He will be dearly missed. 
 The Funeral Service will be held at St. Andrew\'s United Church, 139 – 2 Avenue West, Bow Island on Friday, March 6, 2015 at 11:00 A.M. with Pastor Sheila McLeod officiating. A private burial service will follow at the Bow Island Cemetery. Condolences may be forwarded by visiting our website at www.southlandfuneral.com 
 Arrangements in care of Southland Funeral Chapel, Taber. Telephone: 1-888-223-0116.