KERKHOFF Larine
Posted: September 11th, 2012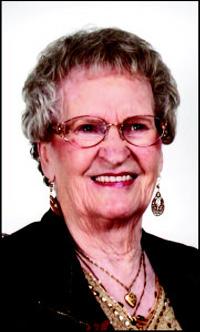 1927 – 2012
With heavy hearts we announce the passing of our mother, grandmother, great
grandmother and great great grandmother. Larine Kerkhoff peacefully lost her
courageous eleven year battle with Alzheimer's disease in Lethbridge on
Friday, September 7, 2012 at the age of 85 years and three days. Although in
sorrow, we feel a great sense of comfort in knowing that she is no longer
suffering and that Heaven has welcomed another angel.
Relatives and friends are invited to meet with the family at the church
prior to the funeral service on Wednesday, September 12, 2012 between 1:00
P.M. and 1:40 P.M.
The Funeral Service will be held at The Church of Jesus Christ of
Latter-day Saints, Taber Stake Centre, 4709 – 50 Avenue, Taber on Wednesday,
September 12, 2012 at 2:00 P.M. with Bishop Wade Steed conducting. Burial to
follow at the Taber Memorial Garden. Condolences may be forwarded by
visiting our website at www.southlandfuneral.com.
Left to cherish her memory are her children Gary (Gwen) Kerkhoff of Taber,
Bonnie (Roy) Smith of Coaldale, LaVonne Andrus (Gene Miller) of Coalhurst,
Marilyn (Robert) Perini of Carseland, Sandra (Brad) Roulston of High River
and daughter-in-law Sharon Kerkhoff of Taber; sixteen grandchildren, thirty
six great grandchildren, two great great grandchildren and many step
grandchildren and their families. She is also survived by her sister Elra
Schoen; sister-in-law Elna Hall; Everett's family Leonard (Laurie) Kerkhoff,
Bula Kerkhoff, Marg Kerkhoff as well as numerous nieces, nephews and
friends.
She has been reunited with those that have gone before her including her
husband of sixty five years Everett; her son Danny; grandsons Billie Jo
Andrus and Derald Smith; great grandsons Blake Andrus and Cole Kuefler;
great granddaughter Kelsea Schmitz; parents Abb and Myrtle Hall; siblings
Norma, Mae, Linda, Doris, Joyce, Ruth, Mary, Vriel and Ross; father and
mother-in-law Frank and Julia Kerkhoff; Everett's siblings Lawrence, Art,
Bernard, Josephine and Ted.
Larine was born in Taber on September 4, 1927 to Abb and Myrtle (nee
Rawson) Hall. She married Everett Kerkhoff on February 22, 1944 and together
they raised six children on the Kerkhoff homestead south of Taber, now a
fourth generation farm.
She always saw the good in everyone, especially her children. She had a
very caring heart and kind soul. Her warm smile, kind spirit and frequent
laughter enveloped those in her presence. She greeted everybody with huge
hugs and kisses. She leaves behind many fond memories. "Mom, we all hope we
can be as gracious and accepting as you were".
Larine was an accomplished seamstress and avid curler. She was happiest
when entertaining family and friends by playing the piano and singing. While
in Arizona for the winters, she enjoyed golfing and clogging and was still
tap dancing at the age of eighty four.
Our family chain is broken, but as God calls us one by one, the chain will
link again.
If friends so desire, memorial tributes in Larine's name may be made
directly to the Alzheimer Society for Lethbridge and Area, 402, 740 – 4
Avenue South, Lethbridge, Alberta T1J 0N9 or to STARS, 1441 Aviation Park
NE, PO Box 570, Calgary, Alberta T2E 8M7 (www.stars.ca).
Our family will always be thankful for the compassionate, loving care the
staff at West Highlands, Park Meadows Village, Edith Cavell and the Chinook
Regional Hospital gave to our beloved mother. God bless you. We would like
to extend our thanks to Dr. Cal Stewart for his fabulous care and concern
for mom.
Arrangements in care of Southland Funeral Chapel, Taber. Telephone: (403)
223-8778.