MCINNES Sharon
Posted: September 15th, 2012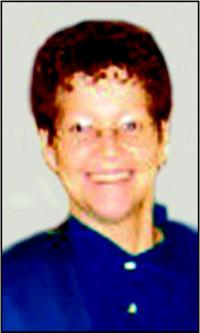 1949 – 2012
It is with great sadness that we announce the passing of our dear mother,
grandmother, daughter and sister, Sharon Marie McInnes (nee Williams) in
Taber on Tuesday, September 11, 2012 at the age of 63 years.
A private family service will be held. Condolences may be forwarded by
visiting our website at www.southlandfuneral.com.
She is survived by her children Mark Paskowski of Edmonton, Kathryn
(Darren) Patras of Innisfail and Dean (Paula) Paskowski of Rosemary; step
daughters Kori McInnes of Innisfail and Lisa McInnes of Kelowna, British
Columbia; grandchildren Brandi (Mike), Kaulin (Karen), Trevor, Andrew, Levi,
Nicholas, Alexander, Riley and Kaitlyn; great granddaughters Hanna and
Isabelle. She is also survived by her brothers Allen (Elaine) Williams,
Marvin (Wanda) Williams, Myles Parsons and Greg Williams; sisters Laurie
(Willie) Rasmussen, Beverly (Sherman) Mitchell, Julia Parsons (Herb Schmidt)
and Debbie (Mike) Capp; step mother Lorraine Williams as well as numerous
nieces and nephews.
She was predeceased by her husband James Lawrence; grandson Taylor Bourque;
father George Williams.
Sharon was born June 24, 1949 in Wetaskiwin. She enjoyed craft work,
crocheting and knitting with a passion for afghans. Sharon loved her
grandchildren and great grandchildren. She volunteered her time and craft
work with friends, family and the community. Sharon will be lovingly
remembered by her family and friends.
If friends so desire, memorial tributes in Sharon's name may be made
directly to the Taber and District Hospital Foundation, 4326 – 50 Avenue,
Taber, Alberta T1G 1N9.
Arrangements in care of Southland Funeral Chapel, Taber. Telephone: (403)
223-8778.