WADDLE Kevin
Posted: September 18th, 2012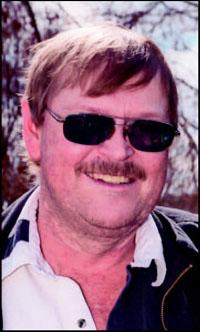 Kevin William Waddle, beloved companion of Sara Giesbrecht of Vauxhall,
passed away at the Chinook Regional Hospital on Saturday, September 15, 2012
at the age of 44 years.
The Funeral Service will be held at the Vauxhall Legion Hall, 217 – 5
Street North, Vauxhall on Friday, September 21, 2012 at 2:00 P.M.
Kevin will be forever remembered by his beloved companion Sara Giesbrecht;
six step children and four step grandchildren. He also leaves behind his
mother Myrna Waddle; siblings Cindy Holoboff (Kevin Sorenson) and family,
Raymond, Carolyn Waddle (Keith Gertzen), Randy (Cheryl) and family; cousin
Hal Broderson as well as many nieces, nephews, cousins and of course
friends.
He was predeceased by his father Ken Waddle on April 30, 2005; grandfather
Glen A. Waddle on April 30, 1992; grandmother Marie Waddle on May 10, 1992;
grandmother Daisy Bergquist on March 7, 1977 and grandfather Clarence
Bergquist on June 25, 1986.
Kevin was born April 30, 1968 at the Taber Hospital the son of Ken and
Myrna Waddle. He was raised in the Circle Hill area and attended the
Vauxhall Schools until Grade eleven. Kevin worked at various jobs around
Vauxhall till he found his job at Vauxhall Foods where he was employed for
twenty three years. He also worked on the family farm during this time which
he would eventually purchase in 1999. He continued on the farm until this
past spring when he sold it. Kevin loved animals with exception of horses.
He also liked to collect antiques and Queen Elizabeth II items. Kevin
enjoyed partying, camping and fishing.
If friends so desire, memorial tributes in Kevin's name may be made to
charity of one's choice.