TANIGUCHI June
Posted: October 16th, 2012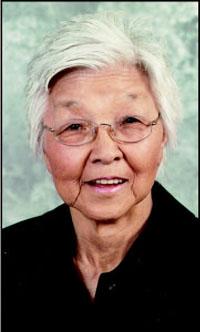 1934 – 2012
June Sayuri Taniguchi (nee Konno), beloved wife of the late Bill Taniguchi,
passed away in her sleep with her family by her side on Wednesday, October
10, 2012 at the age of 78 years.
Relatives and friends are invited to meet with the family at the Southland
Funeral Chapel, 5006 – 48 Avenue, Taber on Sunday, October 14, 2012 between
5:00 P.M. and 6:00 P.M.
The Funeral Service will be held at Knox United Church, 4929 – 50 Avenue,
Taber on Monday, October 15, 2012 at 2:00 P.M. with Reverend Sandra Riddell
officiating. Condolences may be forwarded by visiting our website at
www.southlandfuneral.com.
June is survived by her daughters Peggy (Don) Kenyon of Coaldale and
Christine Taniguchi of Saskatchewan; grandchildren Jason (Kerri) Kenyon
(their daughter Kira), Jeremey Kenyon (Larissa Odland), Jamie Kenyon
(Jessica Blanes), Ryan Span, Cody (Ashley) Span (their sons Ryland and
Maysen) and Landon Span (Julie Johnson). Also left to mourn her passing are
her siblings Catherine Koyanagi of Lethbridge, Ruth Laurie of Lethbridge,
Pat (Art) Hironaka, Vi (Jack) Ikeda, John (Barb) Konno, Evie (Jack) Gibbons
all of Calgary and Andy (Joan) Konno of Surrey, British Columbia; brother
and sisters-in-law Lil & Tom Kaga of Taber and Flo Sameshima of Richmond,
British Columbia as well as numerous nieces and nephews.
She was predeceased by her husband Bill; parents Hideo and Michiko Konno;
sister Grace Odagaki; brothers-in-law Tad Koyanagi Bunk Odagaki, Gord
Laurie, Yagi Kaga and Sammy Sameshima; sister-in-law Sally Kaga; nephews
Keith Kaga and Craig Odagaki; niece Carol Kaga (nee Shigemi).
June was always kind in her relationship with people. She worked for twenty
seven years at Safeway in Taber and retired in 1998. Unfortunately, she was
diagnosed with Alzheimer's disease shortly after retiring. She then left
Taber and moved to Coaldale to live with her daughter Peggy and family. June
is remembered for the great meals she put together. She will be missed for
her caring and loving nature and her love of her family.
Arrangements in care of Southland Funeral Chapel, Taber. Telephone: (403)
223-8778.