JORGENSEN Ruth
Posted: October 17th, 2012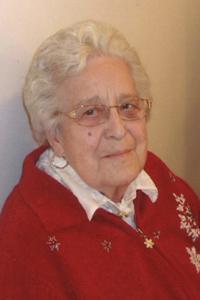 RUTH HANNAH JORGENSEN passed away on Sunday, October 14, 2012 and has walked her final journey down the sunnyside country road to be with her beloved husband Bruce and her two sons, Rodney and David.
She is survived by her two daughters June Jorgensen of Switzerland and Joan Wiltshire of Ottawa, ON; grandchildren Marc Florin, Renee (Arnold) Zur, Julia (Rob) Scouten and Tanya (Ryan) Wiltshire; great-grandchildren Mark Scouten, Rafael Rutschenman and Evelyn Scouten; and nieces and nephews Phil Glasier, Elbert and Merl Lucas, Bob Rollick and Liz Lang.
Ruth was born in Loyalist, Alberta on April 17, 1924. She is predeceased by her siblings Mabel Wilhelm, Ida Rollick, Alice Lucas, Verna Glasier, Ralph Glasier and Walter Glasier.
Family and friends are invited to pay their respects from 6:00 to 8:00 pm on Thursday, October 18, 2012 at MARTIN BROTHERS RIVERVIEW CHAPEL, 610 4th Street South, Lethbridge.
A Funeral Service will be held at 1:00 pm on Friday, October 19, 2012 at the RIVER OF LIFE CHURCH`, 2820 18th Avenue North, Lethbridge, Alberta, with Pastor Cary Goshinmon officiating
Send condolences at www.mbfunerals.com.
VAN MAANEN
With deep sorrow, we announce the passing away of our dear mother, grandmother and great-grandmother HENDRIKA VAN MAANEN, beloved wife of the late Meeuwis Van Maanen, on Sunday, October 14, 2012 at the age of 87 years.
Hendrika is survived by her daughter Greet (Gerard) Bettink; sons Barend (Jany) and Henk Jan (Krijnie); daughter-in-law Jenny DeVos; 24 grandchildren; 37 great-grandchildren; siblings Steven (Marie) Dunsbergen, Bertie Vande Bruinhorst, Henk (Annie) Dunsbergen, Wim (Hennie) Dunsbergen; in law Dirk Pul; as well as numerous nieces, nephews and their families. Besides her loving husband Meeuwis, Hendrika was predeceased by her Parents, Parents-in-law and son Harry.
A Funeral Service will be held at 10:00am on Thursday, October 18, 2012 at the NETHERLANDS REFORMED CONGREGATION, Lethbridge, Hwy 3, with Reverend P.L. Bazen officiating. Interment will follow in the Archmount Cemetery.
Flowers are gratefully declined; donations may be made to the Bethesda Care Home, Box 1096, Picture Butte, AB T0K 1V0.
The family would like to give a very special thank you to the staff at the Bethesda Care Home for the excellent care provided.
Send condolences at www.mbfunerals.com.
Martin Bros. Funeral Chapels Ltd.
610 – 4 Street South
Lethbridge, AB T1J 4P3
Phone: (403)328-2361 Fax: (403)382-3623
Toll Free: 1-800-382-2901
www.mbfunerals.com