PARD Dan
Posted: November 8th, 2012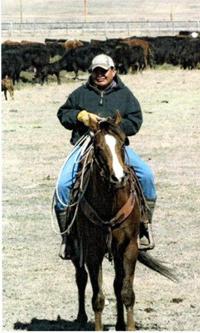 Dan Pard beloved son of Joe and Theresa Pard passed away suddenly on Saturday November 3, 2012 at the age of 48.
Dan was a rancher, farmer and horse trainer. He was an active member of the horse racing industry. Dan was a gifted horse trainer and cattle rancher. He owned and trained many race horses that became champions for over the last twenty five years. Dan and his dad Joe worked side by side over the years on the Pard Farm and Ranch, he was very skillful at working his cattle, he began working with his father at the age of 8. He spent his days on the cattle ranch during feeding, calving, brandings and at the yearly fall roundups where his family and friends rode by his side, Dan was a kind hearted person and will be missed by all of us. Dan cherished his family his parents, his sister and brother, his nieces and nephews, aunts, uncles and his many friends from across Canada and the United States.
Dan is survived by his parents Joe and Theresa Pard also his sister Cathy (Erwin), his brother Troy, and his traditional brother Butch (Brenda) Little Mustache, his nieces and nephews, Blaise (Tatum), Chantel (Nathan), Bailey (Brett), Royd and his great niece Trinity as well as his very close family member Allan (Charlene) Pard and family. His very close friends James (Mary) Plain Eagle, Tyrone (Denise) Potts, Jerome Tall Man, Danny Little Mustache, Ron Parks and Yellow Wings family, we would like to mention all of Dan's close friends but they are too numerous to mention.
Dan is also survived by his aunts and uncles Isadore (Bernedette) Pard, Leo (Louisa) Pard, Peggy Morning Bull, Stanley (Doreen) Pard, Anthony Pard, Amy Prairie, Peter Pard and Camillia Pard. Great Uncle Thomas Little Plume and Great Aunt Linda Little Plume and numerous cousins.
Dan was predeceased by his brother Thomas, his grandparents Mike and Naomi Sharp Adze and Albert and Rita Pard and his very close cousin Clint Pard. Prayer service will be held on November 7, 2012 at 1:30 pm at the Pincher Funeral Chapel located at 1101 Main Street East Pincher Creek. A wake service to follow at Joe and Theresa Pards residence on Wednesday Nov 7, 2012 to Friday. Funeral service Friday 1:00 pm at St. Pauls Roman Catholic Parish, Brocket, Alberta. Interment at Brocket Cemetary, Piikani Nation. Meal to follow at Piikani Nation Community Hall.