OSTRUP Jamesina
Posted: November 24th, 2012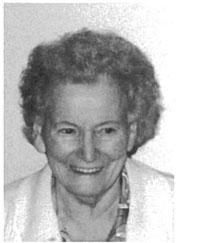 1914 – 2012
It is with great sorrow that the family of Ina Ostrup announce her passing on Tuesday, November 20, 2012 in Cranbrook, BC at the age of 98.
Ina was born in Wick, Scotland, the second eldest of 11 children raised by John and Catherine McBeath.
She loved to garden, do fancy handwork and play cards. She will best be remembered in Southern Alberta by those who came to enjoy her wonderful meals and pies at her Sugar Bowl Cafe in Picture Butte, Alberta.
Ina is survived by her daughter Betty Jean (John) Siray; brother Ralph (Brenda) McBeath; stepsons Jim (Frankie) Ostrup and Bob Ostrup and dear friend Beryl Chester. She also leaves six grandchildren, 17 great grandchildren and 14 great great grandchildren. She was predeceased by her son Larry Bunn; great grandson Johnathan Siray; partner Steve Mitru; husbands Jim Ostrup and Robert Bunn; five sisters Cathy, Mary, Isabel, Rosee, Dorothy and four brothers Robert, Willie, Jack, Ben and her parents John and Catherine McBeath.
There will be no funeral service at Ina's request. Family will gather in Lethbridge, Alberta to celebrate her life at a later date. Condolences may be left for the family at www.markmemorial.com
Mark Memorial Funeral Services in care of arrangements.