RITZEN William
Posted: December 1st, 2012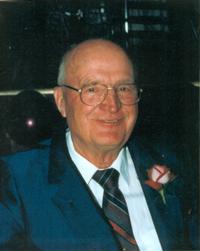 July 7, 1925 – November 26, 2012
Bill Ritzen passed away suddenly on November 26, 2012 at the age of 87. He is the beloved father of Lynn (Val), Larry (Joan), twin daughters Donna and Diane (Vern), daughter Julie (Paul) and John Dunn. He is also survived by his grandchildren Krystal, Cheryl, Christine, Jeff, Ryan, Trent (Karen) and Tatyana, as well as his two brothers, Alex and Edward, and sisters Lillian and Dorothy and numerous nieces and nephews.
Bill was predeceased by his wife Shirley on September 22, 2005. He was also predeceased by his parents Olga and Gus Ritzen, a sister Florence and his brother Jim.
Funeral Services, for Bill, will be held at Claresholm United Church on Monday, December 3, 2012 at 2:00 PM. The Reverend Murray Speer and the Reverend Stephan Ulrich officiating. Interment will follow at the Claresholm Cemetery. If desired, donations may be made to the charity of your choice.
Condolences may be forwarded to the family by visiting www.leydens.com. Arrangements entrusted to LEYDEN'S FUNERAL HOME, Claresholm. Tel: 403-625-3212.