ODLAND Peter
Posted: December 8th, 2012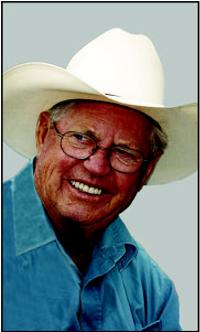 1924 – 2012
It is with great sadness that we announce the passing of Pete Odland,
beloved husband and best friend of Joyce Odland, his wife of fifty four
years, on Tuesday, December 4, 2012 at the age of 88 years.
Relatives and friends are invited to meet with the family at the Southland
Funeral Chapel, 5006 – 48 Avenue, Taber on Sunday, December 9, 2012 between
3:00 P.M. and 4:00 P.M.
The Burial Service will be held at the Enchant Cemetery on Monday, December
10, 2012 at 10:00 A.M.
The Funeral Service will be held at the College Drive Community Church,
2710 College Drive South, Lethbridge on Monday, December 10, 2012 at 2:00
P.M. with Pastor Jeffery Frostad officiating. Condolences may be forwarded
by visiting our website at www.southlandfuneral.com.
Besides his loving wife Joyce, he is survived by his sons Kelly (Donna)
Odland of Lethbridge and their children Brianna (Jonathan) Prescott, Erik,
Katherine and Joseph; Rodney (Carole) Odland of Taber and their children
Kesley (Kevin Lous), Tori (Nolan Thibodeau) and Kaden; Lonnie Odland (Patty
Tolnai) of Taber and his sons Tyrell and Matthew and Patty's children Matt,
Toni and Paige. He is also survived by his brother Erling (Helen) Odland;
sisters Polly (Joe) Claeys and Arlene Tolley; brothers-in-law Joe (Phyllis)
Higgins, Terence Higgins and numerous nieces and nephews.
He was predeceased by his parents Erik and Abigail Odland; sisters Johanna
Severtson and Christy Hagen; brothers Sam and Alfred Odland; brothers-in-law
Mag Severtson, Lloyd Hagen, Bill Tolley and Corky Collins; sisters-in-law
Shirley Odland, Faye Odland, Shirley Higgins and Madeliene Collins.
Peter was born on October 7, 1924 in Varhaug, Norway. At the age of five he
immigrated to Canada with his mother and siblings Johanna, Sam, Christy and
Erling to join their father. They homesteaded in the Sundial District where
his siblings Polly, Alfred and Arlene were born.
As a young man Peter started farming in the Cameron area and on May 31,
1958 he married Joyce Higgins. They continued farming while raising their
three sons. They retired and moved to Vauxhall in 1979.
Through his love of sports, especially hockey and baseball, he travelled to
many places throughout Canada and the United States to watch his sons and
grandchildren compete, right up until his passing.
Nothing was more important to Peter than his family. He had a special place
in his heart for each of his grandchildren and will be forever loved and
missed.
If friends so desire, memorial tributes in Peter's name may be made
directly to STARS, 1441 Aviation Park NE, PO Box 570, Calgary, Alberta T2E
8M7 (www.stars.ca).
Arrangements in care of Southland Funeral Chapel, Taber. Telephone: (403)
223-8778.