PETEK Myrna
Posted: December 18th, 2012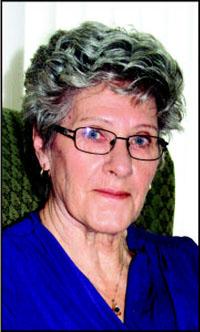 1941 – 2012
Myrna Marie Petek of Vauxhall, beloved wife of the late Lewis Petek, passed
away in Taber on Saturday, December 15, 2012 at the age of 71 years.
Relatives and friends are invited to Prayers at St. Joseph's Catholic
Church, 324 – 2 Avenue North, Vauxhall on Wednesday, December 19, 2012 at
7:00 P.M.
The Funeral Mass will be celebrated at St. Joseph's Catholic Church,
Vauxhall on Thursday, December 20, 2012 at 1:00 P.M. with Reverend Vincent
TuanHa Celebrant. A private family burial service attended by Myrna's
children, grandchildren and her siblings will follow at the Vauxhall
Cemetery. Condolences may be forwarded by visiting our website at
www.southlandfuneral.com.
Myrna is survived by her five children Angie (Brent) Stober of Hays and
their children Sarah (Brandon Skinner and their son Lennox) and Amy; Robert
(Candy) Petek of Vauxhall and their children Lyndsay (Riley) Brown, Chloe
and Matthew; David (Cathy) Petek of Airdrie and their children Brett and
Ben; Rhonda (Steve) Varga of Crossfield and their children Jessica and
Kassidy; Cindy (Rod) Blokker of Vauxhall and their children Kurtis, Ali-Rae
and Jami. She is also survived by her siblings, the late Leo (Arlene)
McCarthy, the late Leonard (Sheila) McCarthy, Marguerite (Dean) Brown of
Calgary, Dennis (Gail) McCarthy, Ella Fajnor, Erika McCarthy, Donald (Lisa)
McCarthy and the late Cleora McCarthy.
Myrna was born January 16, 1941 to Fred and Viola McCarthy, the fifth of
nine children. She married Lewis Petek in 1959 and together they raised
their five children in Vauxhall where she resided her entire life. The most
important part of Myrna's life were her children, grandchildren, great
grandson and special friend Gary Cooper. Over the years she attended many,
many sports games, concerts, competitions and events. She was her grandkids
biggest fan. Myrna was also very involved in the community; serving on the
Legion Ladies Auxiliary, Vauxhall Cemetery Committee, Meals on Wheels,
Vauxhall Community Chest canvassing and several other boards and committees.
Her faith was also very important to her; she has been a member of the
C.W.L., a eucharistic minister, rectory cleaner and regularly attended Mass
over the years. Myrna's other interests included playing bridge, dancing,
curling, cooking, gardening and travelling. She was a good friend to many
and a caring woman who was always there with helping hands. Myrna will be
missed.
If friends so desire, memorial tributes in Myrna's name may be made
directly to STARS, 1441 Aviation Park NE, PO Box 570, Calgary, Alberta T2E
8M7 (www.stars.ca) or to the Alberta Children's Hospital Foundation, 2888
Shaganappi Trail NW, Calgary, Alberta T3B 6A8 (www.childrenshospital.ab.ca).
Arrangements in care of Southland Funeral Chapel, Taber. Telephone: (403)
223-8778.