BLASETTI Theresa
Posted: December 20th, 2012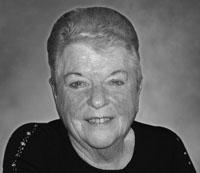 May 24, 1942 – December 17, 2012
Terry Blasetti, beloved wife of Guy Blasetti of Calgary, passed away peacefully at the Calgary Sarcee Hospice after a valiant battle with cancer with her loving family at her bedside, at the age of 70 years.
Terry was survived by her husband of forty-eight years Guy Andrew Blasetti; their children, Deanna (Terry) Hutchins (Chantal, Paige), Paul (Karen) Blasetti (Dana, Kirsten), Darren Blasetti (Alexander, Ethan), Randal (Dorrie) Blasetti (Danielle, Braden) and Dr. Javier Borau Garcia (Mexican son). She is also survived by her sister Tammy (Johnny) Premuzak; brothers, Bud Watson, Don Watson, Bill (Jan) Watson, Guy's Family, Raymond Blasetti, Francis (Joe) Manna, Andrew (Connie) Blasetti, Pat (Steve) Kiss, Laura (Bert) Tysowski, Ernie (Bev) Blasetti, Phil (Linda) Blasetti, and many other family and friends.
Terry was predeceased by her birth mother Maria Gross while she was in Germany; her adopted parents Bill and Catherine Watson; her husband's parents Guido and Julie Blasetti; and her in-laws Mark Blasetti, Marg Watson, Doreen Watson and along with many other family and friends.
Relatives and friends are invited to Prayers and Tributes at Ascension Catholic Church (1100 Berkshire Boulevard N.W., Calgary, AB) on Wednesday, December 19, 2012 at 7:00 p.m.
Funeral Mass will be concelebrated at Ascension Catholic Church (1100 Berkshire Boulevard N.W., Calgary, AB) on Thursday, December 20, 2012 at 10:30 a.m. Graveside Service to follow at Queen's Park Cemetery in Calgary. Condolences may be forwarded through www.mcinnisandholloway.com. If friends so desire, memorial tributes may be made directly to the Bill (Curly) Watson Scholarship Fund, c/o SAIT Polytechnic, 1301 – 16 Avenue NW, Calgary, AB, T2M 0L4, Telephone: 1-877-284-7248.
In living memory of Terry Blasetti, a tree will be planted at Fish Creek Provincial Park by McINNIS & HOLLOWAY FUNERAL HOMES, Chapel of the Bells, 2720 CENTRE STREET NORTH, CALGARY, AB T2E 2V6 Telephone: 1-800-661-1599.