VANDER PLOEG Sydney
Posted: December 22nd, 2012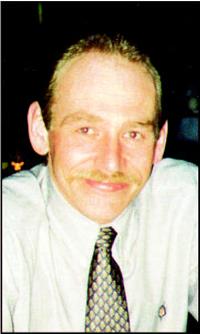 1960 – 2012
It is with deep sadness and sorrow that the family of Sidney John Vander
Ploeg announce his sudden and unexpected passing in Taber on Wednesday,
December 19, 2012 at the age of 52 years.
A private family burial service will be held at the Vauxhall Cemetery prior
to the funeral service on Monday, December 24, 2012.
The Funeral Service will be held at the Vauxhall Community Hall, 417 – 4
Street North, Vauxhall on Monday, December 24, 2012 at 1:00 P.M. with Pastor
Elroy Senneker officiating. Condolences may be forwarded by visiting our
website at www.southlandfuneral.com.
Left to mourn Sidney's passing are his mother Shirley Vander Ploeg of
Lethbridge; brother Harrison (Gail) Vander Ploeg of Calgary and children
Hayden, Garret and Sarah; brother John (Gisele) Vander Ploeg of Calgary and
children Justin and Raquel; brother Casey (Angela) Vander Ploeg of Airdrie
and children Cassi, Anissa, Mitchell, Spencer and Maxwell; sister Henrietta
Vander Ploeg (Colin Norman) of Sherwood Park.
He was predeceased by his father Jan Vander Ploeg (2000) and brother Sidney
John Vander Ploeg (1959).
Sidney was born January 11, 1960, the oldest of five children to Jan and
Shirley Vander Ploeg. January the eleventh was always special growing up in
the Vander Ploeg home. Not only was it Sid's birthday, but it was also that
of his little sister. For all the Vander Ploeg children that meant two
pieces of birthday cake instead of one.
Sid lived his entire life in Vauxhall, a town that held a truly special and
cherished place in his heart and a community he was dedicated and committed
to serving. Sid was always proud to call Vauxhall home. Growing up, Sid was
a very good student. In striving to excel, he set the standard for his
brothers and sister. Sid also excelled on the ice, playing defense and
serving many times as team captain during his minor hockey league years.
As a young lad, Sid could often be found working with his father in the
shop or going on service calls. It came as no surprise that he would join
his father as a partner in Jan Electric Ltd. and Jan's Plumbing and Heating.
After graduating from Vauxhall High School, Sid attended Lethbridge
Community College and SAIT, where he earned his Journeyman and Master
Electrician tickets and later, Journeyman Sheet Metal Mechanic ticket. He
took over the family business in the early 1990's when his father retired.
Sid was a dedicated and skilled tradesman, one who enjoyed his career
calling, who did excellent work and took pride in his work. But Sid also
highly valued relationships. A source of tremendous pleasure for him was the
many people he met and the many friends he made over the years. During the
course of his life and work in Vauxhall, Sid touched the lives of many. He
took particular joy in his many nephews and nieces and was clearly the
favourite uncle. They will profoundly miss him.
Sid's strong work ethic, his dedication and his compassion, concern and
interest for others was always a source of joy for his parents, his
teachers, his coaches, his business associates and his friends. He had a
unique ability and desire, one that is altogether so rare, to put the needs
and concerns of others before himself and this endeared him to many.
In 1975, Sid's parents were involved in a serious car accident. At the age
of sixteen, He would do his homework and then work to finish jobs while Dad
remained in hospital. He took it upon himself to care for the entire family
during this difficult time.
He loved giving and using nicknames. For Sid, a nickname was a sign that
you were indeed a friend and he carried his own nickname of "Hotwire" with
pleasure.
Recently, Sid is remembered for playing a vital role in the construction of
the new Jets Stadium in Vauxhall, a world-class facility with world class
workmanship to which he dedicated hundreds of hours.
In lieu of flowers, memorial tributes in Sid's name may be made directly to
the Vauxhall Jets Stadium Society, PO Box 618, Vauxhall, AB, T0K 2K0.
Arrangements in care of Southland Funeral Chapel, Taber. Telephone: (403)
223-8778.