ELGBY Anna Marie
Posted: December 27th, 2012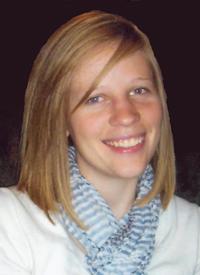 July 16th 1988- December 19th 2012
Anna Marie Elgby was born in Pakistan to Hans and Wendy Elgby on July 16, 1988. She graduated from Maryfield School and received a 4 year degree from Millar College of the Bible. She developed a deep respect for the Haitian people after spending 6 months there following the 2010 earthquake. She was in her third year of nursing at Lethbridge with the thoughts of one day ministering to sick children in the third world. God gave her 24 precious years of life. On December 19, 2012 He immediately ushered her into His Loving Presence for eternity. We know where Anna is because she admitted and repented of her sin and trusted God's provision of cleansing through Jesus' death and resurrection. We gratefully accept that to take her home was God's best plan for her, for the Bible says, "to live is Christ, and to die is gain." (Philippians 1:21)
We as her parents and siblings, Jonathan (Doralyn) and Shawn look to God for His enabling to wait for the day when we can join Anna in heaven to praise our Savior for His wondrous grace.
Anna truly cherished all her family: Niece & Nephew: Annika & Michael Elgby, Grandmother: Mary Murray, Aunts: Lorraine Kernick, Deborah (Tony) Ware, Shauna (Gabe) Beaubien, Uncles: Bo (Debbie) Elgby, David (Carrie) Helston, David (Louise) Murray, Frank Kernick. Cousins: Kayla (Braiden), Rydan Leth, Aimee, Kris Kernick, Aidan, Mattheaus Ware, Steven Helston, Erik, Britt Elgby, Joshua (Sue), Jared (Rachel), Joel Helston, Joshua, Rachel, Rebekah, Andrew Murray. She greatly esteemed her church families, Maryfield Associated Gospel Church and Lakeview Bible Church in Lethbridge, and deeply loved her many friends. A service to thank God for her life will be held on Thursday, December 27, at 2:00 p.m. at the Kola Evangelical Mennonite Church (Kola, Manitoba) with pastor Will Rose officiating. Interment will take place at the Maryfield Cemetery and Luncheon to follow at the Maryfield Auditorium (Maryfield, Saskatchewan).
In Lieu of flowers donations may be made to ministries in Haiti which were so dear to Anna's heart and/or to Millar College of the Bible where she studied for 4 years. Haitian Ministries – Memorial for Anna, www.crossworld.org Millar College of the Bible: info@millarcollege.ca
Email or sign the online book of condolences at www.carscaddenfuneralchapel.com G.R.Carscadden Funeral Chapel, Moosomin SK in care of arrangements.