ROYER Daniel
Posted: January 4th, 2013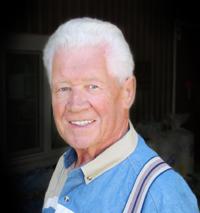 May 21, 1926 – December 28, 2012
Daniel, (Dan – 86 years old), passed away peacefully in his home in Calgary, Alberta, after a long and courageous battle with cancer. Under the loving care of his son-in-law Bruce Griffith- Cochrane, and with continuous visits from all of his family, Dan's life was filled with love and laughter right to the end.
Dan, the middle of nine siblings, was born in the French Community of Beaumont, Alberta to Andre and Lucie Royer. He is survived by his loving wife of 65 years, Alice Royer, six children; Terry (Maureen), Diana (Richard) Bernard, Wynne (Gordon) Towers, Greg (Cindy), Randy (Jane) and Michelle (Bruce) Griffith-Cochrane, his 21 grandchildren, their spouses and eight great-grandchildren. He also leaves behind two brothers; Victor (Beth) and Aurell (Laverne), two sisters; Denise Royer and Lorraine Gaumont and many nieces and nephews. He was predeceased by his parents, brother Robert and three sisters; Evelyn, Estelle and Vivienne.
Dan was a life long learner and entrepreneur who encouraged his offspring and influenced many with his warm smile, infectious laugh and magnetic personality. Although Dan's many enterprises centered in Alberta they spread across Canada and into the United States involving all of his children in various capacities and partnerships. Dan experienced a variety of vocations including construction, military and business with a focus on hotels. He enjoyed and was involved in many sports but his greatest love was his family who will cherish the memory of "Grandpa Dan".
Please visit www.edenbrookcemetery.ca for a more detailed biography and to share condolences with the family.
Prayers and viewing will be held on Thursday, January 3rd , 2013 from 7:00 p.m. to 9:00 p.m. in Calgary at EDEN BROOK FUNERAL HOME (corner of 17th Avenue SW and Lower Springbank Road).
A Celebration of Dan's Life will be held in Calgary at ST. MICHAEL'S CATHOLIC COMMUNITY CHURCH (800 85 Street SW) on Friday, January, 4th 2013, at 1:00p.m. Immediately following will be the interment and refreshments & fellowship at EDEN BROOK FUNERAL HOME (corner of 17th Avenue SW and Lower Springbank Road).
In lieu of flowers a donation in Dan's memory may be made directly to: The Alberta Cancer Foundation at http://albertacancer.ca/danroyer (Daniel J. Royer).
Arrangements entrusted to EDEN BROOK FUNERAL HOME and RECEPTION CENTRE, 24223 Township Road 242, Calgary AB.