KARREN Sue
Posted: January 9th, 2013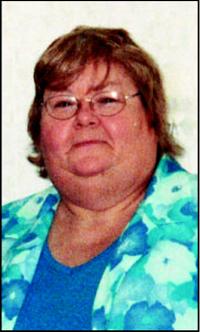 1949 – 2013
Suzanne Karren of Taber, passed away unexpectedly on Friday, January 4,
2013 at the age of 63 years.
Relatives and friends are invited to meet with the family at the Southland
Funeral Chapel, 5006 – 48 Avenue, Taber on Tuesday, January 8, 2013 between
7:00 P.M. and 8:00 P.M. and at the church prior to the funeral service on
Wednesday, January 9, 2013 between 10:00 A.M. and 10:40 A.M.
The Funeral Service will be held at The Church of Jesus Christ of
Latter-day Saints, Taber Stake Centre, 4709 – 50 Avenue, Taber on Wednesday,
January 9, 2013 at 11:00 A.M. with Bishop Ken Holst conducting. Burial to
follow at the Taber Memorial Garden. Condolences may be forwarded by
visiting our website at www.southlandfuneral.com.
Sue is survived by her siblings Keith (Diane) Karren of Provo, Utah, Walter
Karren of Taber, Sharlene Karren of Taber and Harold Karren of Taber. She is
also survived by several nieces and nephews and by her grand nieces and
nephews Miranda Karren, Kimberly Karren, Andrea Karren, Scott Karren, Holli
Karren, Brady Karren, James Karren and Mandy Karren.
She was predeceased by her parents Clinton and Joyce Karren, nephew Brandon
Karren and grand nephew Brigham Karren.
Sue was born in Taber October 28, 1949. She devoted her life to education
with multiple degrees from Brigham Young University. She taught with the
Horizon School Division for thirty five years, the last fifteen spent at the
Sunnysite and Delco colonies. Sue will always be remembered and cherished
for her warm heart and strong family values.
If friends so desire, memorial tributes in Sue's name may be made directly
to Canadian Diabetes Association, 204, 2323 – 32 Avenue NE, Calgary, Alberta
T2E 6Z3.
Arrangements in care of Southland Funeral Chapel, Taber. Telephone: (403)
223-8778.