DUNZ Josie
Posted: January 30th, 2013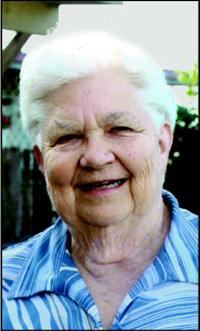 1930 – 2013
Josephine Dunz (nee Makinson), beloved wife of the late Wesley Dunz, passed
away in Lethbridge on Saturday, January 26, 2013 at the age of 82 years.
Relatives and friends are invited to meet with the family for an informal
gathering at the Southland Funeral Chapel, 5006 – 48 Avenue, Taber on
Tuesday, January 29, 2013 between 2:00 P.M. and 3:00 P.M. Condolences may be
forwarded by visiting our website at www.southlandfuneral.com.
Josie is survived by her children Phillip LeBlanc of Taber, Gary LeBlanc of
Bellevue, Ron (Lise Gutron) LeBlanc of Banff, Susan Furgeson of Barrhead,
Brian (Tracy) Dunz of Ponoka, Kathy (Jack) Lelekach of Turin, David Dunz of
Vancouver and Michael Dunz of Taber. She will be fondly remembered by her
grandchildren and great grandchildren; two sisters Helen Archer of Taber,
Violet Charlton of Taber and their families.
She was predeceased by her first husband Maurice LeBlanc and her second
husband Wesley Dunz; parents Joe and Mary Makinson; brother Bill Makinson;
sister Thelma Winchester; Maurice's parents Oscar and Bertha LeBlanc and
Wesley's parents Otto and Bertha Dunz.
Josie was born in Taber on December 17, 1930. She married Maurice LeBlanc
in 1947 and they had three sons before he passed away. On June 21, 1957 she
married Wesley Dunz and together they had five children. Josie and Wesley
enjoyed thirty nine years of marriage. They were long time members of the
Loyal Order of Moose. They participated in many trail rides with the Taber
Riding Club. She resided on the family farm until her passing.
Josie had a love for bird watching, sewing and crocheting. She shared many
of the beautiful quilts she made with family and friends. She was a very
social person and loved having company. Josie enjoyed visits from members of
her church. She played cards every chance she got and found those friends a
great source of entertainment. Josie loved to bowl with friends, her sisters
and her mother Mary. She loved her grandchildren dearly and was proud of all
their accomplishments.
If friends so desire, memorial tributes in Josie's name may be made
directly to the charity of one's personal choosing.
The family wish to thank everyone for the support shown during her illness.
Josie was greatful for all the prayers, company and gifts during her time
spent in the hospital. She was thankful for the care she received from the
doctors and nursing staff during her courageous battle with cancer.
Arrangements in care of Southland Funeral Chapel, Taber. Telephone: (403)
223-8778.