BASQUE Monica
Posted: February 2nd, 2013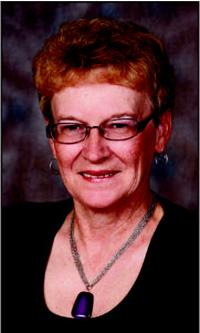 1952 – 2013
It is with great sadness we announce the passing of Monica Basque, beloved
wife of Larry Basque, on Tuesday, January 29, 2013 at the age of 60 years.
The Funeral Service will be held at the Peace Lutheran Church, 4619 – 56
Avenue, Taber on Monday, February 4, 2013 at 11:00 A.M. with Pastor Carl
Bogda officiating. Burial to follow at the Taber Memorial Garden.
Condolences may be forwarded by visiting our website at
www.southlandfuneral.com.
Besides her loving husband Larry, she is survived by her three children
Aaron Bertie of Lethbridge, Michael and Kevin Bertie of Taber; Larry's
children, Larry Jr. (BJ) Basque of Lethbridge, Tammy (Doug) Cocks of Grande
Prairie and four grandchildren Joel (Amanda), Brodie, Delaynee and Jordyn.
Monica is also survived by her siblings Adam (Martha) Anton, Regina (George)
Metcalfe, Helen (Walter) Bonn, Irma Anton all of Kelowna, British Columbia,
Rose Metz and Erika (Ernie) Lukacs of Taber; sisters-in-law Frieda Anton of
Lethbridge, Myra Anton of Point Roberts, Washington; her children's father
Tom Bertie; mother-in-law Ollie Bertie; in-law's Nanette (Ernie) Dupont,
Michelle (Brian) Holthe all of Taber, Monalie (Dennis) Nessman and Mark
Bertie of Calgary, Norman (Karen) Basque of Langley, British Columbia, David
(Kathy) Basque of London, Ontario, Lena (Cookie) Crowe, Patsy (Kevin) Martin
and Linda (Jerry) Johnson all of St. John's New Brunswick as well as
numerous nieces, nephews and cousins.
She was predeceased by her parents Daniel and Olga Anton; brother Adolf
Anton; brothers-in-law Franke Gyenizse and Kenneth Kerr; nephews Attila
Gyenizse and Larry Metz; sister-in-law Michelle Bertie; father-in-law Ado
Bertie; father and mother-in-law Joseph and Mary Rose Basque.
Monica was born in Lethbridge on April 9, 1952, the youngest daughter of
Daniel and Olga Anton. The family immigrated to Canada in April 1951 and she
was the only one of their children born in Canada. She was raised and
schooled in Taber and continued to reside in Taber until the time of her
passing. Monica started her banking career with the Bank of Nova Scotia.
After a brief break she started working with ATB Financial and worked there
part time for thirty years before retiring in June of 2012. Outside of work,
Monica's passion was gardening, in particular her flower gardens. Their yard
won the Communities in Bloom for the best yard in 2009. Monica also started
to enjoy a bit of travelling, taking trips to Germany, Mexico, Arizona, Las
Vegas and the Maritimes. After retirement she was looking forward to her
next destination, Hawaii, which she never accomplished due to a hard battle
with cancer that she never won. Monica loved her family and spent as much
time with each and every one of them whenever possible. She will be lovingly
remembered by her family and friends.
If friends so desire, memorial tributes may be made directly to the
Canadian Cancer Society, 317 – 10 Street South, Lethbridge, Alberta T1J 2M7.
Arrangements in care of Southland Funeral Chapel, Taber. Telephone: (403)
223-8778.