DJANI Ann
Posted: February 8th, 2013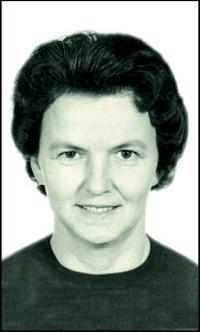 1929 – 2013
Ann Djani, loving wife, mother and exceptional grandmother, passed away in
Taber on Thursday, January 31, 2013 at the age of 83 years.
Relatives and friends are invited to meet with the family at the Southland
Funeral Chapel, 5006 – 48 Avenue, Taber on Friday, February 8, 2013 between
2:00 P.M. and 3:00 P.M. Burial to follow at the Taber Memorial Garden.
Condolences may be forwarded by visiting our website at
www.southlandfuneral.com.
Ann is survived by her daughter Olga (Alma) Jensen of South Jordan, Utah;
son Slavko Djani of Oshawa, Ontario; grandchildren Cindy-Jo (Robert) Thorup
and her children Amanda and Blake, Greg Jensen and his children Chelsey,
Josh and Allyssa, Jeremy (Gwenola Colleu) Jensen, Jeryd Martens and Tyler
Martens. She is also survived by her brothers Peter (Christine) Javni of
Toronto and Ivan Javni of Yugoslavia as well as numerous nieces and nephews.
She was predeceased by her husband Paul, daughters Nada Djani and Vera
Martens; son-in-law Larry Martens.
Ann was born December 12, 1929 to Zahria and Ruza Javni in Drenova,
Yugoslavia where she was raised. She married Paul Djani and shortly after
having their first two children, they immigrated to Canada for a better life
for their family. Here they started out hoeing beats for a local farmer and
soon after arriving, Paul got a job in construction and they bought a home.
Ann stayed home to raise her family and during the summers, continued to hoe
beets and garden. She had many hobbies which she enjoyed. Big game hunting
with her husband was one of those hobbies.
The grandchildren's favorite memory of grandma will always be in
Disneyland, going on every single ride with them and screaming as loud as
she could. She was also always handing out cash to them for every occasion
and sometimes she didn't even need a reason. She will be greatly missed by
her family.
Arrangements in care of Southland Funeral Chapel, Taber. Telephone: (403)
223-8778.