RACZ William
Posted: February 12th, 2013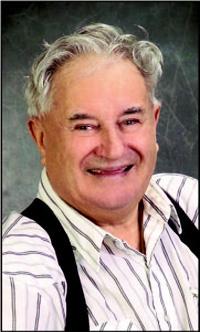 1928 – 2013
William Alexander Racz, beloved husband of Doreen Racz, passed away in Lethbridge with family by his side on Thursday, February 7, 2013 at the age of 84 years.
The Graveside Service will be held at the Vauxhall Cemetery on Monday, February 11, 2013 at 1:00 P.M. with Pastor Elroy Senneker officiating. Condolences may be forwarded by visiting our website at www.southlandfuneral.com <http://www.southlandfuneral.com> .
Besides his loving wife Doreen, he is survived by their children Margaret Racz of Medicine Hat, Jody Elliott of Medicine Hat, Dwen (Margo) Miller of Tees, Reg (Deb) Miller of Anglemont, British Columbia, Rob (Lorraine) Miller of Sherwood Park, Kathy (Gerrit) Kuipers of Vauxhall, Patty (Birnie) Bornn of Red Deer and Verna (Monte) Wright of Calgary; his grandchildren Katherine, Christopher, Tide-Lynn as well as numerous other grandchildren and great grandchildren. He is also survived by his siblings Shirley, Leslie, John, Ed, Marcy and numerous nieces and nephews.
He was predeceased by his mother Margaret Racz; siblings Helen, Ida, Elsie, Stanley and Margaret and by his aunt Lizzy.
Better known as Bill or Pa, William was born on October 14, 1928 in Lestock, Saskatchewan. He Married his second wife Doreen Miller (nee Gehring) on April 24, 1976. Together they resided in Taber where he worked for Taber Feeds. William was involved with the Taber Food Bank and loved to have coffee with his friends at Rex Restaurant. He had a love for all animals, especially his dogs Casey and Belle. In 2005 they moved to Lethbridge where he has resided until the time of his passing. He will be lovingly remembered by his family and friends.
If friends so desire, memorial tributes in William¹s name may be made directly to the Alberta SPCA, 10806 – 124 Street, Edmonton, Alberta T5M OH3.
Arrangements in care of Southland Funeral Chapel, Taber. Telephone: (403) 223-8778.