BAIN James
Posted: February 16th, 2013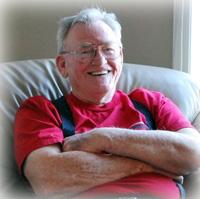 (1929-2013)
Mr. James "Jim" Jamieson Bain, beloved husband of the late Patricia Bain of Hillcrest Mines, Alberta, passed away peacefully on January 30, 2013 at the age of 83 years and with his family at his side.
He will be lovingly remembered by his children, Bonnie (Renso) Castellarin, Jim (Brenda) Bain, Doug (Janice) Bain and Susan (Anthony) Reti; his grandchildren, Joan Yvette (Errol) Kutcher, Bryan Castellarin, Angela (Larry) Mark, Mikaela Bain and James Reti; his great-grandchildren, Alexzandra, Taylor, Gavin, Ashton and Ryder; his great-great-grandchildren, Sebastian and Haeven; his sister, Margaret Hunter; his brothers-in-law, Doug (Lexi) Jamieson and John Hudak; and numerous nieces & nephews, extended family and friends.
He was predeceased by his wife, Pat Bain; his parents, Alex & Susan Bain; his brother, Alex Bain; and his many cherished in-laws.
The Prayer Service will be held on Friday, February 15, 2013 at 7:00 pm at the Holy Trinity RC Church in Blairmore with Jim's son-in-law, Rev. Renso Castellarin officiating.
The Memorial Mass will be held on Saturday, February 16, 2013 at 11:00 am at the Holy Trinity RC Church with Fr. Ben Marino, Fr. Freddy Valdivia & Fr. Thomas Vadassery as Celebrants.
Donations in memory of the late Jim Bain will be gratefully accepted towards the CNP Health Fdn, "Greatest Needs" program, Bag 1, Blairmore, AB T0K 0E0 and the Holy Trinity RC Church Building Fund, Box 1410, Blairmore, AB T0K 0E0. Condolences may be registered at www.fantinsfuneralchapel.ca.
Fantin's Funeral Chapel entrusted with arrangements. (403) 562-8555.