GROSS Delphyne
Posted: February 16th, 2013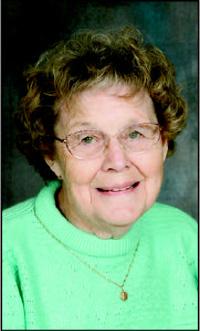 1926 – 2013
It is with great sadness that the family of Delphyne Gross announce the
unexpected passing of their beloved mother and grandmother on Tuesday,
February 12, 2013 at the age of 86 years.
Relatives and friends are invited to Prayers at the Southland Funeral
Chapel, 5006 – 48 Avenue, Taber on Friday, February 15, 2013 at 7:00 P.M.
The Funeral Mass will be celebrated at St. Augustine's Catholic Church,
5009 – 48 Avenue, Taber on Saturday, February 16, 2013 at 10:30 A.M. with
Reverend Vincent TuanHa Celebrant. A private burial service will follow at
the Taber Memorial Garden. Condolences may be forwarded by visiting our
website at www.southlandfuneral.com.
Delphyne is survived by her son Blaine (Connie) Gross of Taber and their
son Mackenzie; daughter Michele (Joe) Smith of Taber and their daughter
Caraline. She is also survived by Mickey's brother Albert (Lorraine) Gross
of Taber and by numerous nieces and nephews, all whom were important to her.
She was predeceased by her husband Mickey Gross; parents Ludwig and Lily
Runne; four brothers and two sisters-in-law, Leo (Wanda) Runne, Duanne
(Betty) Runne, Ted Runne, Gerald Runne and Mickey's brother Edward Gross and
sister Evelyn Gross.
Delphyne was born in Lafleche, Saskatchewan on June 20, 1926. She was
"born" to be a school teacher and from an early age knew this was her dream.
She taught school for ten years in Saskatchewan and Alberta, pouring her
heart and her soul into her profession.
In 1954, a young farmer by the name of Mickey Gross stole her heart and
they were married November 16, 1954. They enjoyed fifty one years of
marriage until Mickey passed away on September 30, 2005. After his passing,
Delphyne was still able to enjoy more than seven years of watching the
grandkids grow and although she missed Mickey terribly, she was extremely
grateful to be such an active part of Mackenzie and Caraline's lives. Family
meant everything to her and she was entirely devoted to her husband, her
children and grandchildren and filled their lives with joy.
If friends so desire, memorial tributes in Delphyne's name may be made
directly to the Heart and Stroke Foundation of Alberta, Box 2211,
Lethbridge, Alberta T1J 4K7.
Arrangements in care of Southland Funeral Chapel, Taber. Telephone: (403)
223-8778.