KINNIBURGH Freda
Posted: February 16th, 2013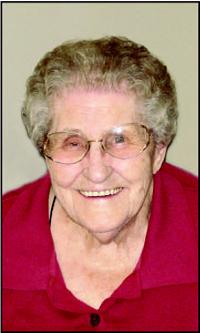 1922 – 2013
Freda Kinniburgh (nee Bartram), beloved wife of the late Jack Kinniburgh, passed away in Taber on Tuesday, February 12, 2013 at the at of 90 years.
Relatives and friends are invited to meet with the family at the Southland Funeral Chapel, 5006 – 48 Avenue, Taber on Monday, February 18, 2013 between 4:00 P.M. and 5:00 P.M.
The Funeral Service will be held at the Knox United Church, 4929 – 50 Avenue, Taber on Tuesday, February 19, 2013 at 2:00 P.M. with Pastor Wes Midgett officiating. Burial to follow at the Taber Memorial Garden. Condolences may be forwarded by visiting our website atwww.southlandfuneral.com <http://www.southlandfuneral.com/> .
She will be greatly missed by her children Fred (Daisy) Kinniburgh of Lethbridge and their family Sandi (Bernny) Keujer and their children Karli, Taya and Chad, David (Darla) Kinniburgh and their children Lexi, Chayne and Lawson, Stuart (Janelle) Kinniburgh and their children Bailey and Taylor; Gordon Kinniburgh of Purple Springs and his family Zelda Gayle Kinniburgh (Patrick Deschamps) and children Brady and Olivia, Adam Kinniburgh and his son Drayden, Daniel (Dan) Kinniburgh, Christy (Kealey) Storrs and their son Callum, Susan Kinniburgh and Jesse Kinniburgh; and their mother Colleen Kinniburgh; Jack (Maureen) Kinniburgh of Keremeos, British Columbia and their family Kelly and Jodi; Kate Jensen and her family Quinton (Mori) Jensen and their children Carson and Kaydree; Katie (Brandon) Shields and Einar Jensen.
She was predeceased by her husband Jack; son Ian Kinniburgh and by her son-in-law Dwin Jensen.
Freda (nee Bartram) was born in Milk River on April 28, 1922 to Frederick and Kate Bartram. As a young woman she joined the Women¹s Division of the RCAF and met the love of her life, Jack Kinniburgh. They were married on July 27, 1945. Purple Springs became their home where they raised their five children and entertained their many friends. You could always get a cup of coffee there and were welcome to stay for supper.
Music was a big part of Freda¹s life. Her beautiful voice entertained many people over the years. She was a part of the Taber Community Band and then went on to sing with ³The Old Guys², singing all the songs she loved so dearly.
If friends so desire, memorial tribute¹s in Freda¹s name may be made directly to the charity of one¹s personal choosing.
Arrangements in care of Southland Funeral Chapel, Taber. Telephone: (403) 223-8778.