PETERSEN Kathy
Posted: February 16th, 2013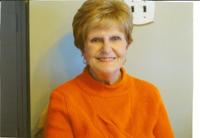 1942 – 2013
Kathy Petersen of Turner Valley passed away Feb. 8, 2013 at the age of 70 after a valiant battle with respiratory failure.
Lovingly remembered by husband, Darran Murphy, sons Kerry (Brenda) Chow and Cory Petersen, sisters Pam (Heinz) Bednar,Debra (Dan) Valkenburg, grandchildren, Ashley and Kristen, great-grandchild, Shayla and many nieces and nephews.
Daughter of the late Donald and Melva Hirsche, predeceased by Butch Petersen and their son Robbie.
For many years she worked at the Carriage House in Calgary and the Dynasty Restaurant in Lethbridge before retiring to enjoy her gardening and her beloved Casper. Her sense of humour, smile, kindness and loyalty to family and friends will be forever in our hearts and memories.
In Kathy's honour a celebration will take place in March at Turner Valley. Should you wish any further information please contact
djvalkenburg@shaw.ca.
Donations to the Lung Association or your local SPCA if so desired.