BOSCH Andrew
Posted: March 9th, 2013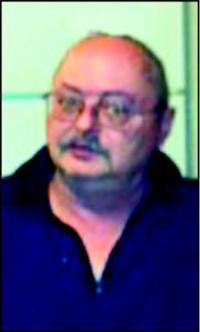 1960 – 2013
Andrew Philip Bosch, beloved husband of Sylvia Bosch of Vauxhall, passed
away peacefully in Taber on Monday, March 4, 2013 at the age of 52 years.
Relatives and friends are invited to Prayers at St. Joseph's Catholic
Church, 324 – 2 Avenue North, Vauxhall on Thursday, March 7, 2013 at 5:00
P.M.
The Funeral Mass will be celebrated at St. Joseph's Catholic Church, 324 –
2 Avenue North, Vauxhall on Friday, March 8, 2013 at 11:00 A.M. with
Reverend Vincent TuanHa Celebrant. A private burial service will be held at
the Vauxhall Cemetery. Condolences may be forwarded by visiting our website
at www.southlandfuneral.com.
Andrew leaves behind to cherish his memory, his loving wife Sylvia (nee
Wolosuk); son Bobby Bosch of Vauxhall, step daughter Serena Snaith (Tony
Fournier) of Fort Macleod; grandchildren Carol, Stacy, Nicholas, Jayden and
Haley. He is also survived by his parents Philip and Caroline Bosch; brother
Lee Bosch; sisters Lucille (Darren) Howlett, Rita (Marvin) Herman and
Beatrice Bosch; mother and father-in-law Harry and Joyce Wolosuk;
brothers-in-law Doug (Dolores) Wolosuk, Jerry Snell, John (Deb) Wolosuk and
nieces and nephews Dallas, Dillon and Brittany Howlett; Adrian, Drake and
Cordell Herman; Kristin Wolosuk and Jamie Mack; Mark and Tim Snell; Nicole
and Julia Wolosuk and Amy Kinniburgh.
He was predeceased by his sister-in-law Carol Snell and nephew Dalton
Herman.
Andrew was born on March 22, 1960 to Philip and Caroline Bosch at Prelate,
Saskatchewan. He grew up on the family farm where he enjoyed many sporting
activities with the neighbour youth. He enjoyed the farm life and took every
opportunity throughout his life to return. He attended Liebenthal Elementary
School before graduating from the Leader High School.
He followed his big sister, Lucy to work briefly in Medicine Hat before
moving to Hays where he worked for Willie and Linda Andruschuk. He started
his career of thirty one years at Vauxhall Foods in 1980 and met the love of
his life, Sylvia, whom he married on April 1, 1983. Andrew and Sylvia had a
son, Bobby Dieter on September 7, 1982. He welcomed the addition of each
grandchild into his life – Carol, Stacy, Nicholas, Jayden and Haley.
Andrew's passion was being with family and having them close in Vauxhall and
on the family farm.
Arrangements in care of Southland Funeral Chapel, Taber. Telephone: (403)
223-8778.