WILLIAMS Ronald
Posted: March 30th, 2013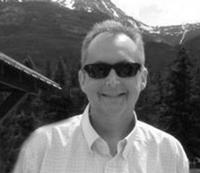 Ronald "Ron" Carey
December 29, 1964 – March 25, 2013
It is with great sorrow that we announce the passing of Ronald "Ron" Carey Williams. Ron had a long hard three year battle with cancer, a battle fought not just with great courage but with humour. Ron was a source of inspiration to his loved ones as he maintained his dignity and considerable sense of humour in the face of these painful trials.
Ron was born in Taber, AB on December 29th 1964. Ron had many passions in his life including motorcycles, cars, trucks, flying, travelling to Japan, and the classic comedy of Monty Python, Fawlty Towers, and Johnny Carson. Ron spent the majority of his working life in the travel and tourism industry driving and guiding people throughout western Canada and the United States. Ron worked with Brewster, Traxx, MTR, and Brewster once again; through his career he came into contact with so many people and counts many as life-long friends. In addition to this, Ron also had a career in Real Estate.
Ron is survived by his parents Dave and Elaine Williams of Calgary; his sister Latrisha Williams of Los Angeles; brother Troy; sister-in-law Kathy; niece Juliet; nephew Tristan Williams of Calgary; and numerous grandparents, aunts, uncles, cousins, and other relatives. Ron's passing is also a great loss to his special friend Corisa Rose of Toronto, and great friend Rick Lang of Canmore. Ron was predeceased by his grandparents Jim and Florence Graham of Taber and Lucy Duncombe of Raymond.
A Celebration of Ron's Life will be held at McINNIS & HOLLOWAY'S Fish Creek Chapel (14441 Bannister Road S.E. Calgary, AB) on Saturday, March 30, 2013 at 10:00 a.m. Ron's family hopes you will join us in this celebration and share your stories and pictures. Forward condolences through www.mcinnisandholloway.com. If friends so desire, memorial tributes may be made directly to the Alberta Cancer Foundation, c/o Tom Baker Cancer Centre, 1331 – 29 Street N.W., Calgary, AB T2N 4N2 Telephone: 1 (866) 412-4222. www.albertacancer.ca/memorial. Ron and his family would like to take this first opportunity to thank Dr. Blahey, Belinda, Dr. Stewart, Krista and all the staff at the Tom Baker Cancer Center, and Dr. Lategan and staff at Peter Lougheed Hospital. Your hard work is appreciated, thank you.
In living memory of Ron Williams, a tree will be planted at Fish Creek Provincial Park by McINNIS & HOLLOWAY FUNERAL HOMES, Fish Creek Chapel, 14441 BANNISTER ROAD S.E. CALGARY, AB Telephone: 1-800-661-1599.