CSEKE Irene
Posted: April 3rd, 2013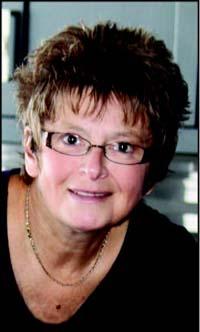 1952 – 2013
Irene Mary Cseke, beloved wife of Tom Cseke, passed away in Taber on
Tuesday, March 26, 2013 at the age of 61 years.
Relatives and friends are invited to Prayers at the Southland Funeral
Chapel, 5006 – 48 Avenue, Taber on Monday, April 1, 2013 at 7:00 P.M.
The Funeral Mass will be celebrated at St. Augustine's Catholic Church,
5009 – 48 Avenue, Taber on Tuesday, April 2, 2013 at 10:30 A.M. with
Reverend Vincent TuanHa, Celebrant. Burial to follow at the Taber Memorial
Garden. Condolences may be forwarded by visiting our website at
www.southlandfuneral.com.
Besides her loving husband Tom, Irene is survived by their daughter Heather
(Sean) Ashlee of Calgary and two grandchildren, Blake and Reese Ashlee. She
is also survived by her brother Ron Volk of Calgary and his children Mark
(Jill) Volk, Adam (Pam) Volk, Jen (Tyler) Perry and their families;
sister-in-law Velma Volk of Calgary and her daughter Denise (Paul
Battistella) Volk and family; sister-in-law Christa (Guy) Quinton of Calgary
and her children Monica (Bruce) Rauch, George (Terri) Volk, Diane (Shawn)
Hamilton, Stan (Lisa) Volk, Lisa Volk and their families. She will also be
fondly remembered by Tom's siblings, Rick Cseke, Pete Cseke, Linda Cseke and
their families.
She was predeceased by her son Kevin Cseke, parents Tony and Annie Volk,
two brothers George Volk, Charles Volk and a nephew Kenneth Volk.
Irene was born in Taber on February 13, 1952, the youngest of four children
and attended St. Mary's School. Following graduation, she married Tom Cseke
in 1971 and moved to the farm. Irene was "thrown" into farm life, milking
cows, gathering eggs and helping in the field, all of which she found to be
a huge adjustment for a town girl, but one she grew to love. Tom and Irene
raised two children on the farm and she worked a short while at the Five &
Dime Store. In 1980 they moved to town and she began working at the drug
store now known as Pharmasave, where she remained for the past thirty three
years and has become a friendly face for many people around town. She loved
to travel and spent many memorable vacations on the beaches of Hawaii and
the Caribbean. Irene was a special "g-mo" to her grandchildren and truly
loved spending time spoiling them.
Irene's special friends recently told her "life isn't really about the
heroic acts or even the deeds we do but rather a constant goodness of how
we've treated others with decency, being compassionate towards others or
just giving a smile to someone who needed one that day. You've been like
that Irene".
If friends so desire, memorial tributes in Irene's name may be made
directly to the Canadian Cancer Society, 317 – 10 Street South, Lethbridge,
Alberta T1J 2M7.
The family wish to offer special thanks to the staff of the Tom Baker
Cancer Centre and the Taber Hospital for the care given to Irene during her
illness.
Arrangements in care of Southland Funeral Chapel, Taber. Telephone: (403)
223-8778.