ZAISER Ewald
Posted: April 11th, 2013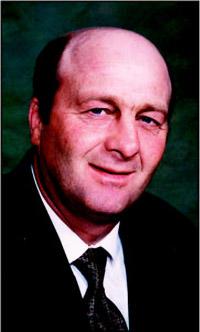 1957 – 2013
Ewald Zaiser, beloved husband of Holly Zaiser, passed away in Taber after a
courageous battle with cancer on Saturday, April 6, 2013 at the age of 56
years.
Relatives and friends are invited to meet with the family at the Southland
Funeral Chapel, 5006 – 48 Avenue, Taber on Wednesday, April 10, 2013 between
7:00 P.M. and 8:00 P.M.
The Funeral Service will be held at Knox United Church, 4929 – 50 Avenue,
Taber on Thursday, April 11, 2013 at 2:00 P.M. with Reverend Sandra Riddell
officiating. Condolences may be forwarded by visiting our website at
www.southlandfuneral.com.
Besides his loving wife Holly, he is survived by his children Tammy (Ryan)
Rombough of Taber and their children Jaidee, Jazlynn and Tori; Tracy (Larry)
Kiss of Taber and their children Logan, Tyran and Ryler; Jason Zaiser (Regan
Jensen) of Taber; Tom (Angie) Meldrum of Taber and their children
Christopher and Michaela. Ewald is also survived by his parents Oskar and
Katharina Zaiser of Taber; siblings Olga (Ted) Blaquier of Taber, Valantine
(Rolf) Traichel of Brooks, Victor (Joanne) Zaiser of Taber, Edwin (Colleen)
Zaiser of Calgary, Brigitte (Jay) Doolittle of Taber, Edmund Zaiser of Taber
and Oscar (Terri) Zaiser of Taber; brothers and sisters-in-law Hal Broderson
of Vauxhall, Lance Broderson of Vauxhall, Richard (Linda) Broderson of
Readymade, Heather (Kelvin) Wright of Vauxhall and Colleen Broderson of the
Crowsnest Pass as well as numerous nieces and nephews.
He was predeceased by his father and mother-in-law Ervin and Dorothy
Broderson; brothers-in-law Harlan and Ralph Broderson.
Ewald was born on February 28, 1957 in Russia. He married Holly Broderson
on August 7, 1976. Ewald owned and operated Southern Oilfield Service for
over twenty five years. He worked very hard for his family whom he loved
more than anything. Ewald had a passion for fixing and building things. He
loved camping, boating, water skiing, taking care of his yard and spending
time with his family. Ewald also loved music and could play the organ,
accordion and harmonica. He will be lovingly remembered by his family and
friends.
If friends so desire, memorial tributes in Ewald's name may be made
directly to the Alberta Cancer Foundation, Room 1A129, Jack Ady Cancer
Centre, 960 – 19 Street South, Lethbridge, Alberta T1J 1W5.
A special thank you to Dr. Wes Steed, nurses and staff from Taber
Palliative Care and Homecare.
Arrangements in care of Southland Funeral Chapel, Taber. Telephone: (403)
223-8778.