LUND Darwin
Posted: April 16th, 2013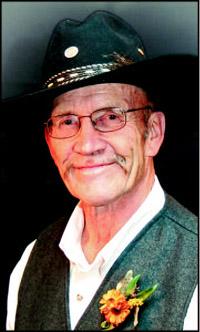 1937 – 2013
The Rodeo¹s Over
Darwin Clark Lund passed away in Taber on Tuesday, April 9, 2013 at the age of 75 years, after battling dementia for a number of years.
Relatives and friends are invited to meet with the family at the Southland Funeral Chapel, 5006 – 48 Avenue, Taber on Monday, April 15, 2013 between 7:00 P.M. and 8:00 P.M.
The Funeral Service will be held at The Church of Jesus Christ of Latter-day Saints, Taber Stake Centre, 4709 – 50 Avenue, Taber on Tuesday, April 16, 2013 at 11:00 A.M. with Bishop Tyler Johnson conducting. (Anyone attending DC¹s funeral service who rodeoed with him or shares his pride in western heritage is encouraged to wear western attire to the event). Burial to follow at the Taber Memorial Garden. Condolences may be forwarded by visiting our website at www.southlandfuneral.com <http://www.southlandfuneral.com/> .
DC (Papa) loved being surrounded by his family and was very playful and gentle with his grandkids. DC is survived by Patty his wife of 50 years; his three children Corby Lund of Edmonton, Kevin (Christy) Lund of Barnwell and their children Sadie, Brynn, Kade and Reese; Kristen (Tom) Simek of Cranbrook, British Columbia and their children Tomi, Drake and Dane. DC is also survived by his 102 year old mother Ivy Lund; sisters Maureen (Harry) Neitz of Stettler and Marilyn (Neil) Broadhurst of Calgary; brother-in-law Tom (Diana) Ivins of Lethbridge as well as numerous nieces and nephews.
DC was predeceased by his newborn son Timothy, father Clark and some good friends.
He was blessed to have had a vibrant, interesting, fulfilled life and he will be greatly missed by his family, friends, all those who he encouraged and all those whose lives he touched.
DC grew up on his family¹s prairie farm near Rosemary, Alberta and was the eldest of three siblings. He worked hard on the farm while growing up and identified very strongly all his life with the family¹s cowboy heritage. He worked with cattle and horses from a very young age and threw himself into any extracurricular and sporting activity he could. After high school he went on to study veterinary medicine at Ontario Veterinary College in Guelph, Ontario. DC was very driven academically and finished at the top of his class two years in a row. After graduating from University, DC settled back in southern Alberta and in 1960 started practicing veterinary medicine in Taber with Dr. Stu Little. He later purchased the Taber Animal Clinic with his partner Dr. Don Hamilton. DC had an interesting and varied career as he also worked for many years in the Canadian Food Inspection Industry. He was also asked to participate in several muskox harvests in Banks Island and Northwest Territories in his capacity as a veterinarian. He relished this unique opportunity. He was later asked to share his experiences at a symposium on Arctic animals
(ungulates) in Greenland. DC enjoyed challenges and took advantage of unusual opportunities his whole life.
DC was an accomplished athlete and sports enthusiast. As a youth he excelled at track and field, baseball, football and pursued hockey and rodeo well into adulthood. He rodeoed much of his life, starting in his teen years, eventually working all the major rodeo events, and competed for many years as a professional cowboy. He received many accolades through rodeo and has been recognized in the Taber Sports Hall of Fame. He has competed at the Calgary Stampede and most other major Canadian pro rodeos, made multiple trips to the Canadian National Finals Rodeo as a steer wrestler and has been inducted into the Canadian Historical Rodeo Hall of Fame. Both DC and his wife Patty were honoured to represent Canada in the sport of rodeo in Australia and Africa.
As well as enthusiastically participating in sports throughout his life, he recognized their value in youth and community development. DC was a big supporter of team sports for young people and enjoyed his involvement on various boards and committees as well as his role as a coach. He helped coach minor hockey as well as W.R. Myers High School Football. He was a longtime member of the Taber Rodeo Committee, helping to keep a pro rodeo event in the community for many years. He enjoyed playing old timers hockey well into his sixties and was able to golf and swim up until two years ago with the assistance of a loyal longtime friend.
Never afraid of a new challenge, in the late 1970s DC decided to take up visual art, beginning with sketching and leading an enjoyable watercolour painting pastime and hobby. He and Patty travelled to numerous art shows and exhibitions for many years displaying and selling his artwork and forming many friendships with other artists. DC and Patty enjoyed travelling together and were able to visit many interesting destinations together including Alaska, England, the continental United States, Australia, Africa, Eastern Canada, China and Greenland. As a couple DC and Patty also enjoyed many great lifelong friendships and celebrated these relationships through card games, weekend excursions, ski trips, rodeo and dances.
The rodeo's over, the folks have gone home and the cowboys are all down the road.
If friends so desire, memorial tributes in D.C.¹s name may be made directly to the Alberta Children¹s Hospital Foundation (Oncology Unit), 2888 Shaganappi Trail N.W., Calgary, Alberta T3B 6A8 or to the Ronald McDonald House Southern Alberta, 111 West Campus Place N.W., Calgary, Alberta T3B 2R6.
Arrangements in care of Southland Funeral Chapel, Taber. Telephone: (403) 223-8778.