BERRY Barbara
Posted: April 20th, 2013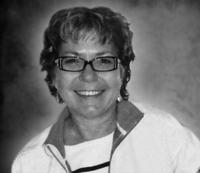 December 18, 1953 – April 15, 2013
Barb Berry of Calgary passed away on Monday, April 15, 2013.
Barb was born and raised in Lethbridge, AB. She moved to Calgary in 1972, where she met her beloved husband Robert and she began her successful career in the oil and gas industry. After years with Gulf Canada and Tidal Energy, she created her own consulting business as a Credit Advisor. Barb was a devoted wife, mother, sister and friend and will be remembered for her wit, humour, generosity, outstanding organizational skills, her tireless energy, and her many contributions to the oil and gas credit industry. She loved golfing, gardening, and spent many hours creating amazing knitted and crochet projects for her friends and family.
Barb is survived by her two sons, Jonathon and Nicholas; sisters, Liz Bennett and Margaret Chilibeck and their families. She was predeceased by husband Robert Berry and her parents Margaret and Frank Marus.
There will be no formal funeral as per Barb's request. A private gathering will be announced at a later date. Condolences may be forwarded through www.mcinnisandholloway.com.
In lieu of flowers, memorial tributes may be made directly to the Canadian Cancer Society, 200 – 325 Manning Rd. N.E., Calgary, AB T2E 2P5 Telephone: (403) 205-3966, email donorservices@cancer.ab.ca or to charity of the donor's choice.
In living memory of Barb, a tree will be planted at Fish Creek Provincial Park.