BODIE Lawrence
Posted: April 20th, 2013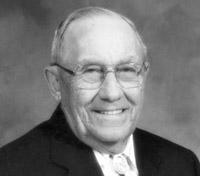 May 21, 1923 – April 16, 2013
Lawrence Charles Bodie, beloved husband of Ruth Bodie, passed away on Tuesday, April 16, 2013 at the age of 89 years.
Lawrence is survived by his daughters, Judie (Charlie) Barnett of Magrath and Debbie (Larry) Lyckman of Carmangay; five grandchildren, James (Tammy) Hildreth, Kim (Street) Helgeson, Les (Amy) Lyckman, Roxanne (Eric) Ericksen of Vulcan, Gary (Alyson) Lyckman of Medicine Hat; and nine great-grandchildren.
Lawrence was born on May 21, 1923 in Mazenod, Saskatchewan to Fred and Caroline Bodie. They lived on a farm in the Mazenod area.
Lawrence married Ruth Lowenberger on October 16, 1947, and they moved to Alberta in 1956. He worked at many different occupations over the years – farming, school bus driver, maintenance man and painter.
Lawrence loved music and played the banjo, guitar and accordion with several bands. He also enjoyed golfing, camping and fishing. He loved spending time with his family and his grandchildren were very special to him.
A memorial service will be held at the Peace Lutheran Church (4304 – 2 Street West, Claresholm) on Saturday, April 20, 2013 at 2:00 p.m., with Donna Alm officiating.
Condolences may be forwarded to the family by visiting www.leydens.com. Arrangements entrusted to LEYDEN'S FUNERAL HOME, Claresholm. Tel: 403-625-3212.