WILLIAMS Sophie
Posted: April 27th, 2013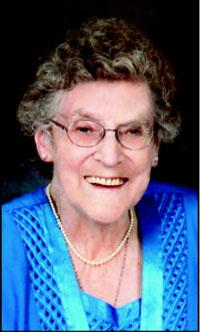 1930 – 2013
Sophie Williams, beloved wife of Ron Williams, passed away in Taber on
Sunday, April 21, 2013 at the age of 82 years.
Relatives and friends are invited to Prayers at St. Augustine's Catholic
Church, 5009 – 48 Avenue, Taber on Friday, April 26, 2013 at 7:00 P.M.
The Funeral Mass will be celebrated at St. Augustine's Catholic Church,
5009 – 48 Avenue, Taber on Saturday, April 27, 2013 at 10:00 A.M. with
Reverend Vincent TuanHa, Celebrant. Burial to follow at the Taber Memorial
Garden. Condolences may be forwarded by visiting our website at
www.southlandfuneral.com.
Besides her loving husband Ron, she is survived by her children Cecelia
(Don) Kuchison of Pincher Creek and their children Angela Kuchison, Marielle
(David) Thom and Joshua Kuchison; Pauline (Vic) Dudus of Calgary and their
children Caroline Dudus, Alexander (Shawne) Dudas and Jeremy Dudus; Jim
Williams (Marilyn Bater) and their children Claire Williams and Laura
Williams; Fred (Belinda) Williams of Taber and their children Jordan
(Nicole) Williams, Tabatha Williams, Cameron Williams and Kavan Williams;
Mike (Susan) Williams of Edmonton. Her sister Ann Conell and her family will
also remember her.
Sophie was born in Edmonton May 6, 1930 to Jacob and Paulina Schab. She
began her teaching career in Central Alberta in a log cabin schoolhouse.
Sophie came to Taber in 1952 to teach at Central School. Shortly after, she
met Ron when they were on the same bowling team. They married on July 9,
1955. Sophie taught at St. Mary's School when it opened in 1956 and later at
both St. Patrick's and St. Mary's Schools. She retired from teaching in
1986. Sophie was a member of the Catholic Women's League for fifty nine
years. She enjoyed painting, knitting and crocheting. Sophie will be
particularly remembered for her celebrations with family and friends.
If friends so desire, memorial tributes in Sophie's name may be made
directly to the Alberta Lung Association, Box 4500, Station South, Edmonton,
Alberta T6E 6K2 or to the Heart and Stroke Foundation of Alberta, Box 2211,
Lethbridge, Alberta T1J 4K7.
Arrangements in care of Southland Funeral Chapel, Taber. Telephone: (403)
223-8778.