BOHNE Evelyn
Posted: May 11th, 2013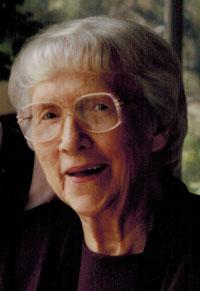 Evelyn Gene (Pilling) Bohne, beloved wife of the late Owen Bohne, passed away peacefully with family present, at Fort Macleod Extendicare on May 6, 2013.
She leaves to mourn her passing two daughters, Jean-Suzanne Bohne of Lethbridge, Melody (Tony) Perez of San Antonio, Texas; one daughter-in-law, Jordan Birk (Casey, deceased) of Burnaby; 9 grandchildren and 21 great-grandchildren; also two sisters, Audrey (Donald, deceased) Jensen of Cardston and Vernetta (Lorne) Reed of Calgary as well as numerous beloved nieces and nephews.
She was predeceased by her loving husband Owen; her only son, Douglas Abner Casey; six brothers, Kenneth, Ronald, Vernon, Harold, Ten, Keith; and three sisters, Merle, Mable, Ruby.
Evelyn was born and raised in Cardston, Alberta. After completing high school there she attended Calgary Normal School in 1935-36. As a teacher, her first position was teaching at Big Bend Hutterite Colony where she had forty-two pupils and taught the first seven grades in one classroom – all for $8860 per annum. She married Own Bohne in 1939 and for ten years they made Picture Butte their home. Two of their children, Jean-Suzanne and Casey were born there. In 1967 Owen and Evelyn adopted their youngest daughter, Melody. In 1950 they took up residence in Fort Macleod where Evelyn went back to teaching school for a number of years. She loved working with the children. She conducted several recorder bands and her efforts in presenting the Christmas Pageant at the school concerts were always well received. Evelyn was always interested in art, singing, music and handicrafts – especially calligraphy. She attended Banff School of Fine Arts on a scholarship. Evelyn was an active member of the L.D.S. Church and held various positions in Fort Macleod as well as Cardston. She and Owen served three missions, the last one in the Birmingham Mission in Wales in 1981-82. She enjoyed the outdoors and fishing as did her husband. They spent many happy hours in their motor home and fishing on the lakes. In 1995 they moved to the Chinook Lodge in Cardston. In 2006 Evelyn moved to Extendicare in Lethbridge and in August, 2010, she moved to Extendicare in Fort Macleod where she resided until her passing. A person of great inner strength and perseverance, she was a compassionate, gracious, delightful and inspirational woman who loved her family and brought joy into the lives of many.
A Celebration of Life Service will be held on Tuesday, May 14, 2013 at 2:00pm at the LDS Church, 643-20 Street, Fort Macleod, Alberta.