KERKHOFF Laurie
Posted: May 18th, 2013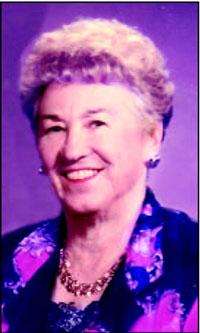 1925 – 2012
On Monday, November 12, 2012, Laurie Jean Isabel Kerkhoff of Osoyoos,
British Columbia passed away peacefully at the Penticton Regional Hospital
at the age of 87 years.
The Funeral Mass was celebrated at St. Anne's Catholic Church, Osoyoos,
British Columbia on Saturday, November 17, 2012 with Reverend Dave DeSouza,
Celebrant.
The Burial Service will be held at the Taber Memorial Garden, one kilometre
north of 64 Avenue on 50 Street, Taber on Friday, May 24, 2013 at 1:00 P.M.
in the Kerkhoff family plot. A reception will follow at the Royal Canadian
Legion, 5205 – 48 Avenue, Taber. Condolences may be forwarded by visiting
our website at www.southlandfuneral.com.
Laurie will be fondly remembered by her loving family including her husband
Leonard Frank Kerkhoff; sons Larry, Lanny (Wendy) and Lindsay; daughter
Laraine (Edward); grandchildren Spencer, Lauren, Steven, Morgan, Byron
(Brielle), Alex and by Lindsay's stepson, Nicholas.
She was predeceased by her sisters Kay, Lillian and Margaret; her brother
Bob and her niece Barb.
Laurie trained and worked as a nurse at the Calgary General Hospital and
the Taber General Hospital. She loved to travel and enjoyed trips with her
husband Len to Hawaii, Pakistan (Islamabad), Spain, Italy, Ireland, Bolivia,
Japan and Singapore. She loved music (piano and singing) and often composed
various skits she coordinated through the years. Laurie loved to golf and
was a past member of the Osoyoos Golf Club, the San Vicente Golf Club in
Ramona, California and the Earl Grey Golf Club in Calgary. She was a member
of the Oil Wives in Calgary for many years. Laurie was Protestant until she
was baptized and confirmed Catholic on November 18, 2009.
If friends so desire, memorial tributes in Laurie's name may be made
directly to the Canadian Diabetes Association, 204, 2323 – 32 Avenue NE,
Calgary, Alberta T2E 6Z3 or to the Canadian Cancer Society, 317 – 10 Street
South, Lethbridge, Alberta T1J 2M7.
Arrangements in care of Southland Funeral Chapel, Taber. Telephone: (403)
223-8778.