GOUGH Wayne
Posted: May 21st, 2013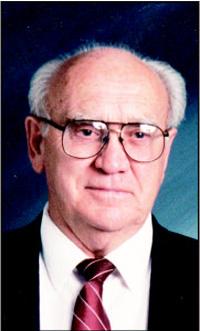 1927 – 2013
Wayne Lievesley Gough, beloved husband of June Gough, passed away in Taber with family at his side on Thursday, May 16, 2013 at the age of 85 years.
Relatives and friends were invited to meet with the family at Southland Funeral Chapel, 5006 – 48 Avenue, Taber on Monday, May 20, 2013 between 6:00 P.M. and 7:00 P.M. and also at the church prior to the funeral service TODAY, Tuesday, May 21, 2013 between 10:00 A.M. and 10:40 A.M.
The Funeral Service will be held at The Church of Jesus Christ of Latter-day Saints, Taber Stake Centre, 4709 – 50 Avenue, Taber TODAY, Tuesday, May 21, 2013 at 11:00 A.M. Burial to follow at the Taber Memorial Garden. Condolences may be forwarded by visiting our website at www.southlandfuneral.com <http://www.southlandfuneral.com> .
Wayne is survived by his wife June, their eight children Gloria (Jim) Dick of Sherwood Park, Clifford (Pat) Gough of Simms, Montana, Lynn (Larry) Taylor of Taber, Gladys (Allen) Litchfield of Orem, Utah, Rodney (Karen) Gough of Taber, Susan (Bruce) Law of West Valley City, Utah, Melanie (Robin) Hansen of Barnwell, Corilee (Kevin) Bishop of Gilbert, Arizona; forty four grandchildren and one hundred and six great grandchildren. He is also survived by two brothers Gary (Delores) Gough of Lethbridge and Brian (Ronnie) Gough of Lethbridge; his sister Dianne (Ken) Chipman of St. George, Utah, sister-in-law Peggy Gough of Airdrie and numerous nieces and nephews.
He was predeceased by his parents and his brother Delbert Gough.
Wayne was the first of five children born to Gladys (nee Lievesley) and Clifford Day Gough in Raymond on June 8, 1927. He married the love of his life, June Gibb on February 2, 1946. Wayne worked for the Canadian Sugar Factories in Raymond and Taber. He left in 1978 to work for Lakeside Fertilizer until he retired in 1992.
Wayne loved people and serving others. Many were recipients of his delicious popcorn and fudge. He was an active member of The Church of Jesus Christ of Latter-day Saints, serving in many positions throughout his life. Wayne and June especially enjoyed serving a mission in England. He lived a life of service to his family, community and church.
Wayne was an avid gardener, passionate about his roses and tomatoes. Nothing pleased him more than having the first ripe tomato. He had a great sense of humor and loved spending time with his family and friends. He knew the name of every grandchild and great grandchild. Above all else, he felt his crowning glory was his wife and posterity.
If friends so desire, memorial tributes in Wayne¹s name may be made directly to the Canadian Cancer Society, 317 – 10 Street South, Lethbridge, Alberta T1J 2M7 (www.cancer.ca <http://www.cancer.ca> ).
Arrangements in care of Southland Funeral Chapel, Taber. Telephone: (403) 223-8778.