KADOYAMA Kenny
Posted: June 7th, 2013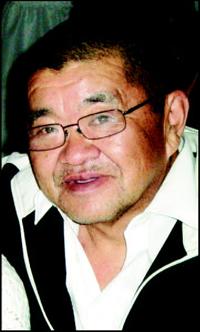 1949 – 2013
Keigi "Kenny" Kadoyama, passed away in Lethbridge on Saturday, June 1, 2013
at the age of 64 years.
Relatives and friends are invited to Prayers at Southland Funeral Chapel,
5006 – 48 Avenue, Taber on Thursday, June 6, 2013 at 7:00 P.M.
The Burial Service will be held at the Taber Memorial Garden, one kilometre
north of 64 Avenue on 50 Street, Taber on Friday, June 7, 2013 at 11:00 A.M.
Condolences may be forwarded by visiting our website at
www.southlandfuneral.com.
Kenny is survived by his sisters Lillian Vanderwal of Taber, Patricia
(Susie) David of Lethbridge, Mae (Jack Fuller) Eldridge of Lethbridge, Ami
(Fred) Oliver of Lethbridge and Chiyo (Leonard) Burke of Calgary; brother
Sam (Frances) Kadoyama of Taber; brother-in-law Doug Eldridge of Lethbridge.
He is also survived by his nieces Shelley, Karen, Vickie, Michelle, Cindy,
Melody, Kim, Marlene, Crystal, Dawn, Sara and his nephew Terry and their
families; cousins Ruth, Mark, Luke, Donna, Richard, Janet and their families
all of British Columbia as well as his long time friend Terry (Brenda)
Rombough and family.
He was predeceased by his parents Tsuaya (nee Kadonaga) and Ichiro
Kadoyama; niece Bonnie Eldridge; Uncle Takehiko and Aunt Miki Kuromi and two
brothers-in-law, John Vanderwal and Vern David.
Kenny was born in Lethbridge on April 2, 1949. After attending school, he
worked on a farm and later spent several years in the oil patch around
Taber. Most recently he worked at a hotel. Over the past couple of years his
health began to deteriorate, forcing him to take residence at the St.
Therese Villa in Lethbridge where he resided until his passing.
If friends so desire, memorial tributes in Kenny's name may be made
directly to the Canadian Diabetes Association, 204, 2323 – 32 Avenue NE,
Calgary, Alberta T2E 6Z3 or to the Kidney Foundation of Canada, Suite 400,
740 – 4 Avenue South, Lethbridge, Alberta T1J 0N9.
Kenny's family would like to thank everyone for the care and concern shown
to him. They are truly grateful for the help they have received.
Arrangements in care of Southland Funeral Chapel, Taber. Telephone: (403)
223-8778.