EPP John
Posted: June 15th, 2013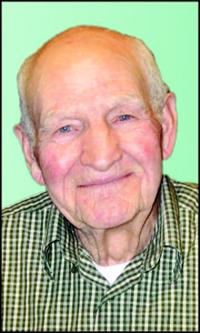 1925 – 2013
Following a courageous battle with ALS (Lou Gehrig's disease), John Peter
Epp of Lethbridge (formerly of Vauxhall), went to be with his Lord on
Tuesday, June 11, 2013 at the age of 88 years.
Relatives and friends are invited to meet with the family at Southland
Funeral Chapel, 5006 – 48 Avenue, Taber on Sunday, June 16, 2013 between
7:00 P.M. and 8:00 P.M.
The Burial Service will be held at the Vauxhall Mennonite Cemetery (travel
north of Vauxhall on Highway 36 almost seven kilometers, then head east on
Township Road 140 just over one kilometer) on Monday, June 17, 2013 at 10:30
A.M.
The Funeral Service will be held at the Coaldale Mennonite Brethren Church,
2114 – 18 Street, Coaldale on Monday, June 17, 2013 at 2:00 P.M. Condolences
may be forwarded by visiting our website at www.southlandfuneral.com.
Besides Annie, his loving wife of sixty eight years, John is survived by
their seven children Elsie (John) Fast of Coaldale, John (Eldonna) Epp of
Calgary, Allen (Lois) Epp of Kelowna, British Columbia, Linda (Art) Thiessen
of Vauxhall, David Epp of Edmonton, Lois (Harold) Schmidtz of Cold Lake and
Rick (Paula) Epp of Moose Jaw, Saskatchewan. He will be fondly remembered by
sixteen grandchildren and twenty three great grandchildren, Ken Fast of
Lethbridge and family Austin and Morgan; Scott (Carey) Fast of Calgary and
family Jordan, Asha and Lindsey; Jason Fast (Denise Holland) of Warner;
Leonard Epp of Calgary; Rosanne Schlachter (Michael Drumm) of Calgary and
family Hailey and Brayden; Dale (Patti) Epp of Geraldine, New Zealand and
family Isabel and Justus; Roxanne (Mark) Bohnet of Kelowna, British Columbia
and family Jesse and Madison; Bruce (Shannon) Thiessen of Duchess and family
Lauren and Emily; Brian (Angie) Thiessen of Sherwood Park and family Rachel,
Lukas, Jack and Adam; Steven Epp of Edmonton; Patrick (Glenna) Schmidtz of
Calgary and family Katie, Olivia and Emma; Kelly (Terry) Maksymchuk of
Vernon, British Columbia and son Cory; Kim Schmidtz (Gregg Spencer) of Cold
Lake and family Brae and Blair Howatt; Tyson (Jarret) Epp of Saskatoon,
Saskatchewan; Taylor (Danae) Epp of Caronport, Saskatchewan; Meredith Epp of
Moose Jaw, Saskatchewan. John is also survived by his brother David
(Margaret) Epp and sister Marie (Rudy) Dick all of Abbotsford, British
Columbia; sisters-in-law Ankie Epp of Coaldale, Margaret Epp of Abbotsford,
British Columbia, Elsie Thiessen of Tofield and by numerous nieces and
nephews.
He was predeceased by his parents Anna (nee Falk) and Peter Epp; brothers
and sisters Bernard, Justina, Peter, Annie Willms, Heinrich, Jakob (1921 –
1922), Margareta, Henry and Jakob (1927 – 1929); sister-in-law Susie Epp;
brothers-in-law Frank Willms and Ben Thiessen; grandsons Kevin Thiessen and
Darren Epp; great granddaughter Sarah Maksymchuk.
Born in a Russian village, Markowka, March 23, 1925, John immigrated to
Canada with his parents and siblings in 1929, arriving in Rosthern,
Saskatchewan. In the spring of 1930, the family moved to Coaldale where his
parents bought a CPR farm. It was here that John was introduced to
irrigation, raising sugar beets and grain, as well as raising livestock,
dairy cows and poultry.
John met Annie Funk while she was working in Lethbridge and after a lengthy
courtship, the two were married in 1944 and were both baptized in 1950. They
began their married life together in the Coaldale area and farmed there from
1946 to 1959. They moved to Vauxhall in December 1959, where they raised
their children and continued to farm. Later, in 1979, they moved back to
Coaldale to farm until their retirement in 1990.
John and Annie enjoyed living in Lethbridge and remained in their own home
until the fall of 2010 when they moved to the Black Rock Terrace senior's
home and most recently, they resided at the Good Samaritan Society West
Highland Centre.
Whether raising sugar beets, growing watermelons, tending to his raspberry
or strawberry patch or producing beautiful roses and flowers, John nurtured
his crops. He loved the land and strived for excellence in his farming. He
believed that with hard work, a strong will and determination to succeed,
you could achieve anything you put your mind to.
John delighted in family celebrations and always volunteered to bring the
watermelon, which he greatly enjoyed. He had just the right knack for
picking the red, ripe, juicy ones and especially appreciated the crack of
the fruit as he cut the extra large slices.
Socializing, going for coffee at Tim Hortons or McDonald's, breakfast at
Humpty's, and supper with friends before an exciting game of Rook or Kanasta
were outings John happily anticipated. Keeping active, he could be found
walking the path around Henderson Lake or a trail in the coulees, meeting
new people as he stopped to chat along the way. When he lost his ability to
speak, he took a pen and paper and continued to enjoy conversations with
others.
John had a special golfing crew with whom he golfed for many years. Both he
and Annie enjoyed this activity together. Following this, they enjoyed their
breakfast and coffee just as much, maybe more than golfing. When
grandchildren came to spend the night, he'd get them up early (like a
farmer) and off they'd go to the golf course to "get a round in" before the
rest of the world got started.
John had a good sense of humour and appreciated a funny story or joke.
Somehow he always laughed harder when it was told to him in German.
If John saw an opportunity to help someone in need, he rose to the
challenge, doing what he could to aid, by providing generously. He is
remembered by his friends and family for his kind and giving spirit and
garden veggies.
If friends so desire, memorial tributes in John's name may be made directly
to the Amyotrophic Lateral Sclerosis (ALS) Society of Alberta, 250, 4723 – 1
Street SW, Calgary, Alberta T2G 4Y8 (www.alsab.ca).
The family wish to thank the Black Rock Terrace and staff, the Good
Samaritan Society and staff, Irene Forsey of Alberta Health Services and
Janice Zoeteman of the ALS Society. They would also like to thank the home
care nurses, Renee and Lily and Dr. A. Billet, Dr. A. McPherson and Dr.
Wedel for the care given to John.
Arrangements in care of Southland Funeral Chapel, Taber. Telephone: (403)
223-8778.