KIDD Beatrice
Posted: August 19th, 2013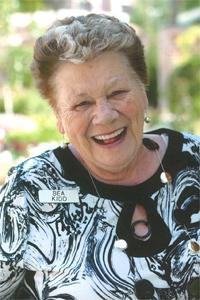 1928 ~ 2013
Beatrice Lewis Kidd was born on December 2nd, 1928 in Toronto, Ontario celebrate the life of our dear mother, grandmother, and great grandmother. Beatrice attended St. Clements Private Girls School while growing up in Toronto. She was a devoted wife who was married to Gordon Kidd, the "love of her life" for forty-nine memorable years. She cherished family times at Wasaga Beach in Ontario and enjoyed taking her children to the Canadian National Exhibition. After moving out west to Edmonton with her family, she worked for Grand & Toy as an Office Manager. She supported and encouraged her children and grandchildren in their many activities, clubs, sports, educational, and career endeavors. She was a passionate hockey fan who relished the opportunity to cheer on her team. Many of her most fulfilling moments were attending family celebrations and sharing precious time with her family in Kananaskis Country or as she often reiterated, "God's Country". She relished her travel adventures and experiences to Greece, England, Scotland, Alaska, Hawaii and the Caribbean. Bea had friendships that spanned the globe! She could simply "light up a room" with her smile, charisma, and bubbly personality. Her "love of life" embraced by her caring ways, humor, and compassion for others were her greatest gifts. She left a lasting legacy for family and friends to forever treasure.
Beatrice's family would like to express their appreciation to her dear friends at Martha's House, the doctors and nurses at the Lethbridge Regional Hospital, and staff at St. Michael's Lethbridge PARP Center, for the special care and attention given to our mother.
Beatrice will be lovingly remembered by her son, William Kidd (Elaine Ford) of Sherwood Park, Alberta, two daughters, Linda Solomon (Sheldon) of Lethbridge, Alberta and Karen Dumontel (Joe) of Brooks, Alberta; five grandchildren, Nicole, Stuart (Tina), Danielle (Robin), Michelle (Greg), Ryan (Hailey), great grandchild Dominick; brother-in-law Jim Kidd and many nieces and nephews. Beatrice was predeceased by her husband Gordon, parents Jim and Laura Duncan, sister Dorothy, brother Norman, and niece Gloria.
Upon her wishes, a Memorial Service will be held at 3:00 p.m. on Saturday, July 6th, 2013 at MARTIN BROTHERS FUNERAL CHAPELS, 610 — 4 Street South, Lethbridge, Alberta.
The family requests that in lieu of flowers, donations can be made to Big Brothers and Big Sisters, 622-6 Avenue South, Lethbridge, Alberta T1J 2C7, or Coastal Missions, P.O. Box 77, Chemainus, British Columbia, VOR 1K0.
Send condolences at www.mbfunerals.com.
Martin Bros. Funeral Chapels Ltd.
610 – 4 Street South
Lethbridge, AB T1J 4P6
Phone: (403)328-2361 Fax: (403)382-3623
Toll Free: 1-800-382-2901