RAPHAEL Julian
Posted: December 11th, 2013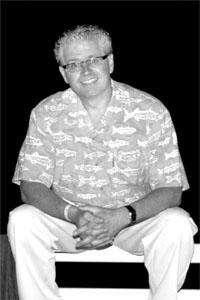 DR. JULIAN RAPHAEL, beloved husband of Karen Raphael of Lethbridge, passed away peacefully at St. Michael's Palliative Care Centre on Wednesday, December 4, 2013 at the age of age of 58 years. Dad checked the paper everyday to see if he was in the obituaries, so Dad, we hope you are reading this and think we did a good job.We hope you're off ice fishing now, Jules, like you loved to do on winter weekends with your best friend Phil Browne. Perhaps, over the holidays, you'll be riding the chairlift at Castle Mountain with Fergus, a flask in the pocket of your red ski suit. In the spring, you'll be putting fish on John Marriner's fly-fishing lines in the Crowsnest Pass, where you often went together, or helping your best fishing buddy, Barry Thienes, catch Walleye at the annual fishing derby at the Simmie Dam. You'll be golfing with Phil and Elaine next summer and taking all of the mulligans you please. In the evenings, you'll join us for a curry and a beer, and maybe some live music in town. These are the things you loved to do in Canada, Dad, where you emigrated from England in 1990 to fulfill your father's wish of practicing medicine in the birthplace of socialized medicine, Saskatchewan. In Shaunavon, you enjoyed working at the Avon Medical Clinic for ten years with mom (Karen) and your good friend Sharon Crockett, taking care of all of your little "sausages". You left Shaunavon in 2000 for Lethbridge, AB, where you joined the Haig Clinic, and finished your career in Lethbridge at the Campbell Clinic where your colleagues also became your dear friends. As a family doctor for over 30 years, you provided the most compassionate care to your patients, who we know will truly miss you. You were a wonderful dad, making it to Bruce's hockey games, Daisy's dance recitals, and Fergus's football games, all despite your hectic schedule. We don't know how you did it! We are grateful you took us to Shaunavon from Northampton, England when were just little kids, because you knew it would be a good place for us to grow up. Thanks to you, we have a Canadian family too – the Thieneses, the Crocketts, the Van Raaltes, the Monettes, and the Rices will all miss you so much, as will our English-Canadian family, the Brownes, the Braithwaites, and the Marriners. The parties won't be the same without you – but we will drink whiskey in your honour!Your brothers Jeremy and Jonathan, your sister Jane, your sisters-in-law Sue and Kathy, and your nieces and nephews Meaghan, Paige, Jenny, Gerard, and Olivia, Nicola and Bradley already miss you and your unique sense of humour – even all of the jokes you seemed to tell over and over again. Mom reckons the secret to your 34-year marriage was that she never could remember the punch lines!You definitely kept your love, Karen, on her toes. You met her when you were nineteen, and you two were head-over-heels straight away. She loved living with you in Dublin while you trained at the Royal College of Surgeons, and is so glad she followed you on your adventure to Canada. Her family has become like your own. Granny Marie, Auntie Dena, Helen, Micky, Jon, Rachael, Penny, Jeremy, Orlanda, Asia, and Evan will miss you at our family dance parties.You were as joyful and passionate about life in your illness as you were in health. Your bravery since your diagnosis of pancreatic cancer in October of 2012, just days before your 57th birthday, was astounding. You persevered with dignity, humor, kindness and compassion until the very end, and we love you even more for that. We'll miss you, Dad.
Lots of love,
Fergus, Daisy, and Bruce
A Visitation will be held at CORNERSTONE FUNERAL HOME – 2800 Mayor Magrath Drive South, Lethbridge, Alberta on Friday, December 13, 2013 from 6:00 P.M – 8:00 P.M. A Service Of Thanksgiving will be held on Saturday, December 14, 2013 at COLLEGE DRIVE COMMUNITY CHURCH – 2710 College Drive South, Lethbridge, Alberta at 1:00 P.M. with Bernadette Schneider officiating. Dr. Julian Raphael died of pancreatic cancer on December 4th at 2:20 pm at St. Michael's Health Centre in Lethbridge. He was 58 years old. Karen requests that in lieu of flowers donations be made in his memory to the Palliative Care Unit c/o St. Michael's Foundation, where they hope to develop a new family area.